Nikon AF-South DX NIKKOR 55-200mm f/4-5.6G


Rp 1.800.000

F Mountain Lens / DX Format
Maximum Aperture Range: f/4 to 5.6
Minimum Aperture Range: f/22 to 32
Extra-Low Dispersion (ED) Glass
Super Integrated Coating
Silent Wave Motor AF System
Nikon VR II Image Stabilization
Manual Focus Override
Rounded vii-Blade Diaphragm
1 Tahun Garansi Distributor
Lihat : Pertanyaan yang sering diajukan

Hubungi CS
Out of stock
Description
Additional data
Reviews


0

Spesifikasi
Isi dalam Box
Estimasi Pengiriman
Nikon AF-S DX NIKKOR 55-200mm f/four-5.6G ED VR II

Nikon AF-South DX NIKKOR 55-200mm f/4-5.6G ED VR II
merupakan lensa zoom tele serbaguna dari Nikon dan kompak yang cocok untuk fotografi potret, olahraga, atau fotografi satwa liar. Ketika ditempatkan pada kamera Nikon DX, ia menawarkan sudut pandang setara dengan lensa 82-300mm pada kamera digital 35mm full-frame. Ketika dipasangkan dengan lensa eighteen-55mm Nikon DX, wide angle mulus dengan kemampuan tele

diperoleh secara maksimal.





Silent Wave Motor dimanfaatkan untuk autofocus yang cepat dan tenang, sementara Vibration Reduction menstabilkan optik dalam lensa untuk memungkinkan pengguna untuk mengatur kecepatan shutter hingga iv stop lebih lambat sebelum guncangan kamera menjadi jelas dalam gambar. Dengan Vibration Reduction, hasil akan lebih tajam saat memotret
di bawah
cahaya rendah, merekam video HD, atau ketika sengaja menggunakan
kecepatan
rana lambat. Kualitas gambar yang lebih terjamin oleh Extra-Low Dispersion (ED) yang meminimalkan distorsi pada optik, sementara Super Integrated Coating
meminimalkan
ghosting
dan flare
untuk memberikan kontras
yang tinggi dan hasil
yang jelas.

Fitur Utama Nikon AF-S DX NIKKOR 55-200mm
F Mount Lens / DX Format
Maximum Aperture Range: f/iv to 5.6
Minimum Discontinuity Range: f/22 to 32
Extra-Depression Dispersion (ED) Glass
Super Integrated Coating
Silent Moving ridge Motor AF Organization
Nikon VR II Image Stabilization
Transmission Focus Override
Rounded 7-Blade Diaphragm
Compact and Lightweight
FAQ
Q: Lensa untuk DSLR atau Mirrorless?
A: Untuk DSLR
Q: Apakah sudah dapat lenshood?
A: Sudah dapat lens hood
Q: Berapa diameter filter lensanya?
A: 52mm
Q: Garansi berapa tahun?
A: Garansi distributor ane tahun
Q: Apakah sudah ada IS?
A: Sudah ada IS
Q: Lensa untuk APS-C atau Full-frame?
A: Untuk APS-C
Q: Apakah bisa menghasilkan foto yang bokeh?
A: Lensa ini cocok untuk foto jarak jauh, bisa juga menghasilkan foto lumayan bokeh
[vc_row][vc_column width="ane/1″][vc_toggle title="Spesifikasi Lengkap Nikon AF-S DX NIKKOR 55-200mm f/4-5.6G" open="imitation"]
Performance
Focal Length
55 – 200mm
Comparable 35mm Focal Length: 82 – 300 mm
Aperture
Maximum: f/4 – five.6
Minimum: f/22 – 32
Camera Mountain Type
Nikon F
Format Compatibility
Nikon DX
Angle of View
DX Motion picture Angle: 28.7° – 8.0°
Minimum Focus Distance
3.70′ (1.thirteen one thousand)
Maximum Reproduction Ratio
1:.23
Elements/Groups
13/9
Diaphragm Blades
7, Rounded
Features
Image Stabilization
Aye
Autofocus
Yes
Tripod Collar
No
Concrete
Filter Thread
Forepart:52 mm
Dimensions (DxL)
Approx. 2.70 x three.20″ (6.86 x 8.13 cm)
Weight
10.threescore oz (301 g)
[/vc_toggle][/vc_column][/vc_row]
Ulasan Video Nikon AF-Southward DX NIKKOR 55-200mm f/iv-5.6G
Only logged in customers who have purchased this product may go out a review.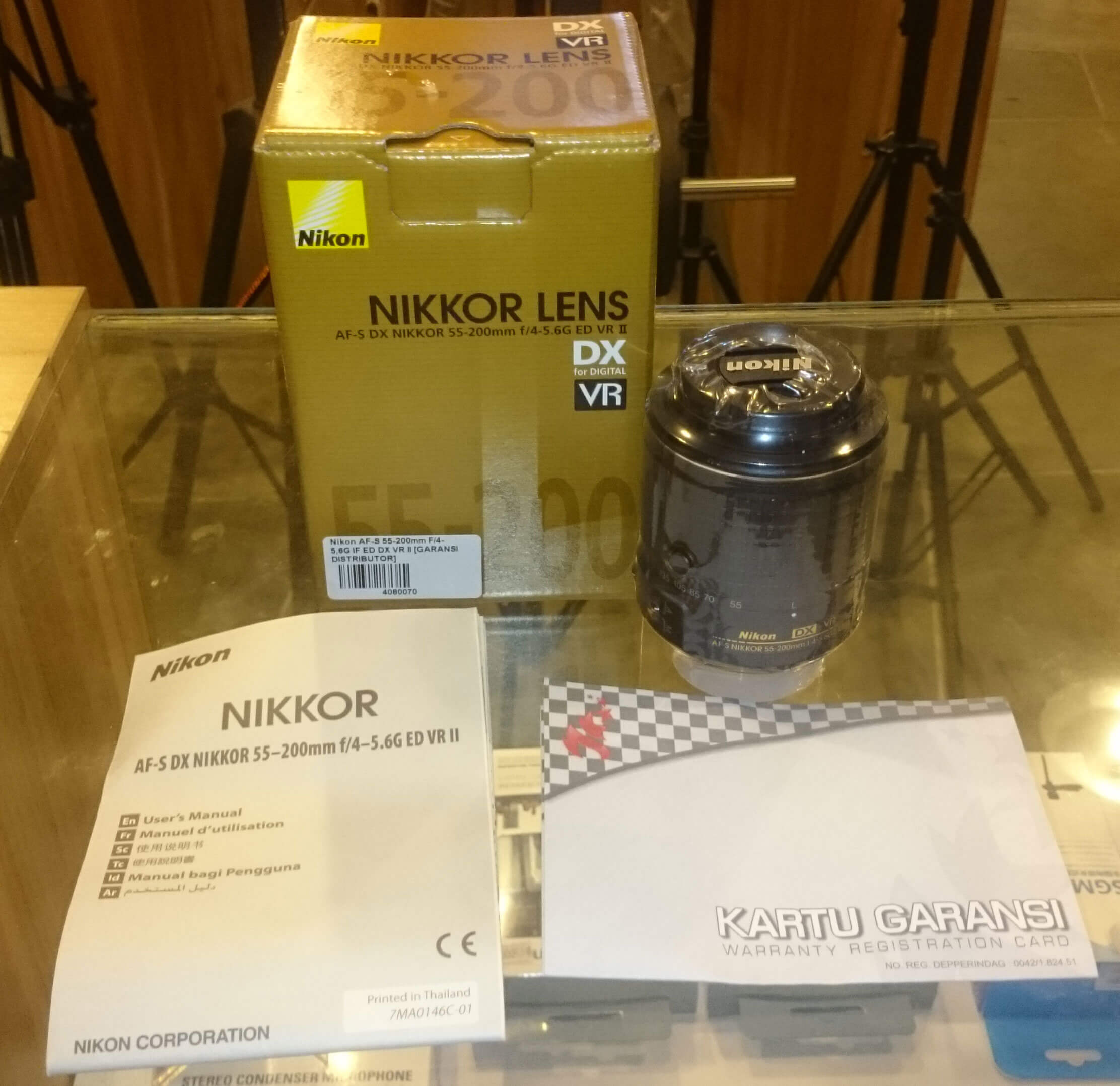 Nikon AF-S DX NIKKOR 55-200mm f/4-5.6G ED VR II Lens
52mm Snap-On Lens Cap
LF-4 Rear Lens Cap
– Jatim : i-three Hari
– Jateng & Yogyakarta : i-four Hari
– Jabar : ane-four hari
– Jabodetabek : ane-4 Hari
– Bali : 2-4 Hari
– Nusa Tenggara : 2-4 hari
– Sumatera ; 2-v Hari
– Borneo : ii-4 Hari
– Sulawesi : 2-four Hari
– Maluku & Papua : 2-6 Hari
NB: Lama pengiriman akan bertambah 7-x hari kerja, jika unit terdapat baterai
Source: https://www.plazakamera.com/shop/nikon-af-s-dx-nikkor-55-200mm-f4-5-6g-ed-vr-ii/