ASTROPHOTOGRAPHY ON THE GO
Alex Conu
I travel and I camp quite a lot. And I love astrophotography. How can you lot mix these two? Some time ago, I was using a traditional German language equatorial mount, a guidescope and a laptop for astrophotography. The mount was effectually 18 kilos, tripod included, the guidescope around 2 and the laptop added some other i.five kg to the setup. This was without my camera and imaging telescope or camera lenses. Oh, and let's not forget the heavy 12V bombardment. And the cables. Lots of cables and adapters.
And so, I decided to switch to a lighter setup more suitable to by way of astrophotography. I usually practice astrophotography at short focal lengths, the longest beingness 500mm. At present, virtually of my astrophotography is done with a star tracker on a tripod, one photographic camera torso, ii lenses, one telescope and i Macbook Pro for mail processing. And a portable power pack.
For the tracker, I chose the Fornax LighTrack 2. Yes, in that location are lighter trackers out at that place, but I agreed to trade some weight for tracking accuracy. The LighTrack Ii is for sure the nearly accurate star tracker available on the market today (written in 2018). The peak-to-pinnacle unguided tracking mistake of the LighTrack is around 2 arcseconds, a significantly lower value than almost other products feature. I've been a fan of Fornax trackers since their get-go model, the Fornax 10, and they never disappointed.
The LighTrack II has multiple tracking speeds, including one-half sidereal, which is very useful for nightscapes. When you shoot scenic astrophotos, you commonly want the stars to be points of light, not trails. From a fixed tripod, you're limited in terms of maximum exposure time, if you want to get pin point stars. The rule of thumb for this maximum exposure time is to divide 400 by the focal length of your lens, on a total frame camera. (Y'all will find this rule on the Internet as the 500 rule; it's better to use this 400 rule or even the 360 rule, if you are more picky.)
Simply, most of the times, you feel the need for a longer exposure. The offset choice is to rail your exposures using sidereal charge per unit (the rate at which the Earth spins on its centrality). Then, yous get nice stars, but the basis part of your image, the mural will get blurred. Equally I'm not a fan of blending photo of the sky with one of the landscape, I oftentimes choose to shoot nightscapes at one-half sidereal speed. This volition let you exposure times that are twice equally long as the ones from a fixed tripod. Let'southward say y'all want to take a photo with a 24mm lens on a full frame camera. From a fixed tripod y'all volition be limited at 400/24 = sixteen.6 seconds. That better translates to 15 seconds. Using a tracker at half sidereal rate, you can shoot at 30 seconds and still get circular stars and the foreground will not be terribly blurred.
Here's one shot of the Big Dipper in a higher place Djupfjord, in Lofoten, shot with a Canon EOS 5D Mark Three and a Canon EF 17-40mm f/4L lens. I used 44 seconds of exposure tracked at half sidereal charge per unit on the LighTrack Two. In the aforementioned image, I got both nice looking stars (except for lens distorsion) and details in the foreground.
Hither's another instance of an image tracked at one-half sidereal rate. Technical details are the aforementioned equally above. This was shot in Romania, in the Retezat mountains, during a short star party I attended in the beginning of October. Too bad the weather condition was not very friendly and I was non able to practise any proper astrophotography. The prototype looks actually a lot improve, but the image displaying algorithm of my web log stretches it in an ugly way.
Of course, if I'grand not interested about the landscape and I desire to shoot images showing just the dark heaven, I will switch to sidereal charge per unit and shoot for multiple minutes.
Here's one image of the constellation of Perseus, shot from Lofoten, with the Canon EOS 5D Mark Iii and the Catechism EF 17-40mm f/4L lens set at 40mm f/5.6. I used a Kenko Softon diffuser filter to make star colours more prominent and to make constellations pop out. It's a stack of three iii minute exposures candy in PixInsight.
The constellation in the sky:
Constellation lines co-ordinate to the International Astronomical Wedlock and some important objects around Perseus:
Hither's another example of a shot tracked at normal sidereal rate, taken in New Zealand with the same Canon EOS 5D Marking Iii just this time with a Zeiss Otus 28mm f/1,iv APO Distagon T* lens. (Read my review of the Otus) Information technology's an image of three galaxies: to the left there'southward part of our Galaxy and to the right, at that place are the two Maggellanic Clouds, satellite galaxies of our Milky Way.
Here's another example of a shot tracked at normal sidereal charge per unit, taken in New Zealand with the same Canon EOS 5D Mark Iii but this fourth dimension with a Zeiss Otus 28mm f/1,4 APO Distagon T* lens. (Read my review of the Otus) It's an epitome of iii galaxies: to the left there'due south part of our Galaxy and to the correct, there are the two Maggellanic Clouds, satellite galaxies of our Milky way.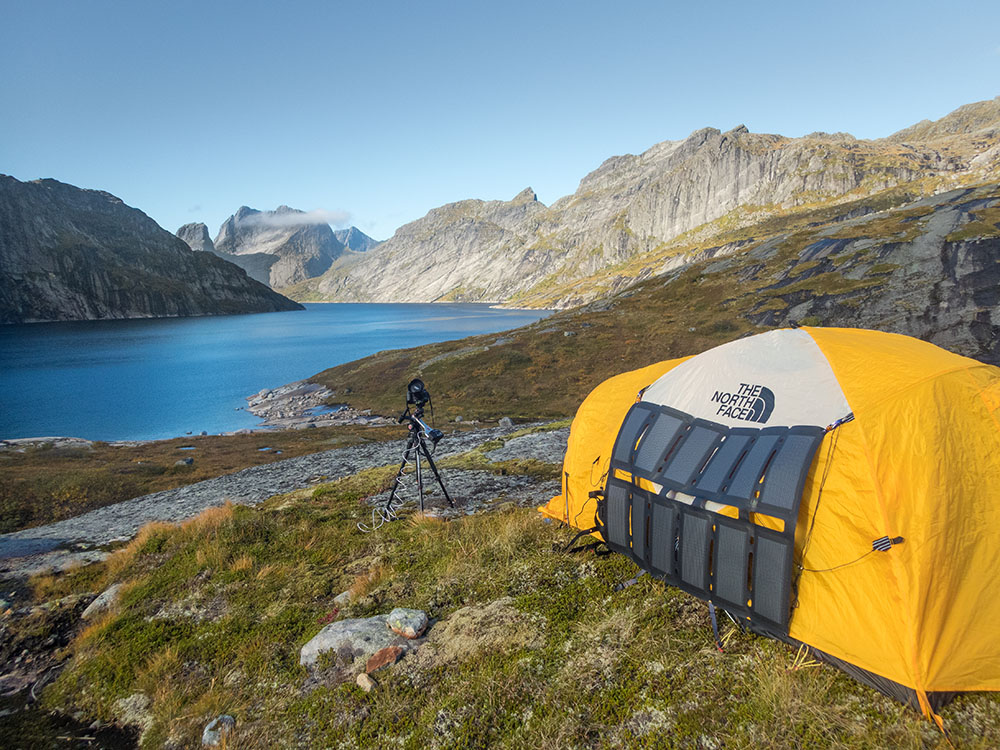 All this gear fits inside a normal photograph backpack. In my backpack, I as well have plenty of room for a few clothes, a light sleeping handbag and I can fit the tent to the exterior of it or I tin can share it with my married woman, as I never go camping ground lone.
I'm exceptionally happy with the setup I use right now and it'south not likely at all to change it in the future. It totally suits my style of travelling and doing astrophotography. The funny thing is that pretty much every fourth dimension I get through security check at the airport, the LighTrack becomes the most interesting object in the backpack. I get to tell them why I carry it with me, how I do astrophotography with the device so on. Mayhap 1 of the guys checking my backpack will start astrophotography because of that.
The tracker is and so good that I can fifty-fifty utilise it with my Pentax 75SDHF refractor telescope. Just I'll tell you more about that in a future mail service.
Clear skies and if you have any questions apply the Comments section.
Reality bank check: I'm a brand administrator for both Fornax Mounts and Enerplex. Fifty-fifty though I get some items from them for free, my opinions are always fair as I am not able to endorse products I don't believe in.
Source: https://www.amateurastrophotography.com/astrophotography-on-the-go