I'll never forget the moment I spied my husband positively effulgent as I walked towards him, my mum and dad on either arm, for our civil wedding ceremony ceremony at Hartsfield Manor three years ago. I hadn't prepared myself for just how special the ceremony would be and it was filled with so many gorgeous moments.
Like the harpist playing my favourite spine-tingling vocal 'At present Nosotros Are Free' from the Gladiator pic for the alley walk and reading out the beautiful vows we both wrote which moved every guest to tears. I adore seeing the heartfelt images of the couples we feature during their ceremonies and hearing about the inclusion of little touches to pay homage to their cultural backgrounds.
Film by Dream Colours
The couple featured here today, Emma and Amar (who both work in the dentistry field), historic with an intimate tea ceremony at Emma's family unit abode in Brockley, London on the fifth of Feb 2022. They then held a decadent party at The Old Finsbury Town Hall in London the following mean solar day. Prepare to be moved past their divine video by Dream Colours who was bundled with short notice and totally blew the couple abroad, so much so that this trailer has become Amar'southward favourite memoir from the day.
Photography by Miki Photography
Emma'due south attire for the political party at the Town Hall was the beautiful 'Stephanie' manner past La Poésie from Heart Aflutter Bridal.
"I initially toyed with the idea of a jumpsuit, just dismissed this subsequently seeing my mother'due south cuttings of hymeneals dresses (without a trouser in sight!). During my search, I set my centre on another dress design, however it was not possible to be made in time for February. With but iii months to get, and with everyone worried for me, I chose London-based designer, La Poésie, who was able to make the tight borderline. I wanted a dress that would be easy to trip the light fantastic toe in and adored 'Stephanie', as it was timeless, unstructured and made with gorgeous French silk and lace. Did it pass the dance test? The proof is in our photographs!"
Amar was gifted his royal-blue silk áo dài and wedding headpiece (khan dong), whilst Emma'due south aunt commissioned the family seamstress in Vietnam to make her intricate emerald green lace áo dài.
The gorgeous bride added gold die-cutting leather peep-toe heels from Anthropologie, her favourite Jo Malone scent – 'Forest Sage and Sea Salt' – and a stunning fresh flower hairpiece of white lisianthus and eucalyptus created by Nicky from Moggy Blooms. She then finished off her stunning await with the same pearl earrings that her sister wore on her hymeneals day.
"I am required to go along my hair-up for piece of work, so decided to exit information technology down for the wedding. I wanted to avoid annihilation too 'precious' or 'formal', so I lightly curled my hair with pilus straighteners (for both ceremonies). I usually wear lilliputian or no-make up – so my sister helped me apply a light Dior spray foundation, Topshop cream blusher and completed the look with liquid eyeliner flicks."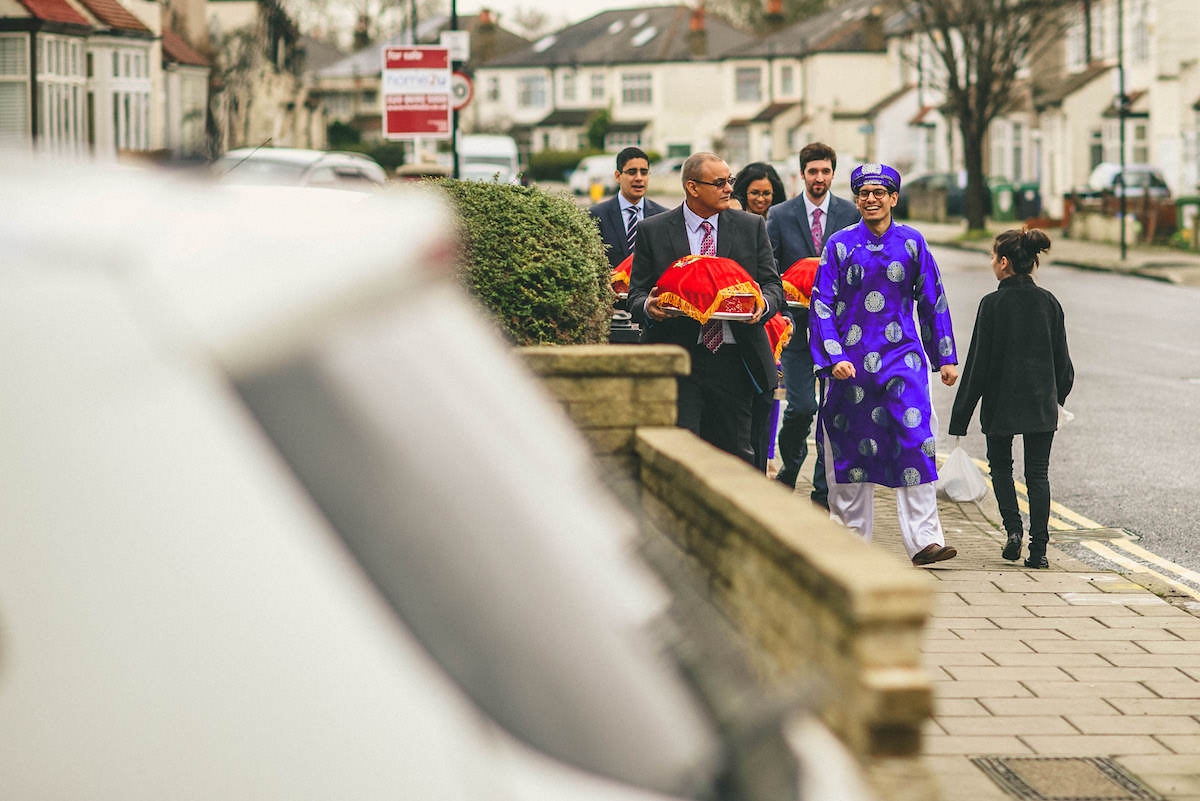 "As it was a winter wedding, Amar wanted a suit which was warm and cosy, notwithstanding smart. He gravitated towards the wool plaid, two-piece suit from J.Crew. He accessorised with a play tricks-detailed tie, a birthday gift from myself before that twelvemonth from Ted Baker, a pocket square from Reiss and wore his favourite, lived-in and well-loved shoes from Russell & Bromley, with bicycle printed socks from John Lewis."
The stylish groomsmen wore their ain suits, together with a tie from Reiss.
"The 'tea ceremony' involves a short formal service, where we demonstrate our respect and appreciation to our ancestors, parents, family members and additional guests. For my parents, this anniversary represents our union and marriage despite not beingness acknowledged by western police."
"We wanted to remain faithful to the traditions of my ancestors, by wearing Vietnamese áo dài (long tunic worn over trousers).
The result begins with the inflow of Amar's family unit to my family home, baring busy carmine gift trays, filled with offerings of exotic fruit, sweets, wine and jewellery. Each of the groomsmen are responsible for a tray, and upon their arrival, they present the gifts to my bridesmaids. Following the credence of the gifts, the girls invite the groom's family into the home for the marriage to commence."

"During the ceremony, incense sticks are lit for prayer, tea is served to our parents and guests, and nosotros exchange vows and rings. The gift boxes filled with jewellery were presented by the Anita (groom's female parent) and each piece was placed on me for proficient fortune. Finally, nosotros invite everyone to join usa in sharing a celebratory feast of traditional Vietnamese food, which includes the nutrient in the trays that were gifted by the groom's family."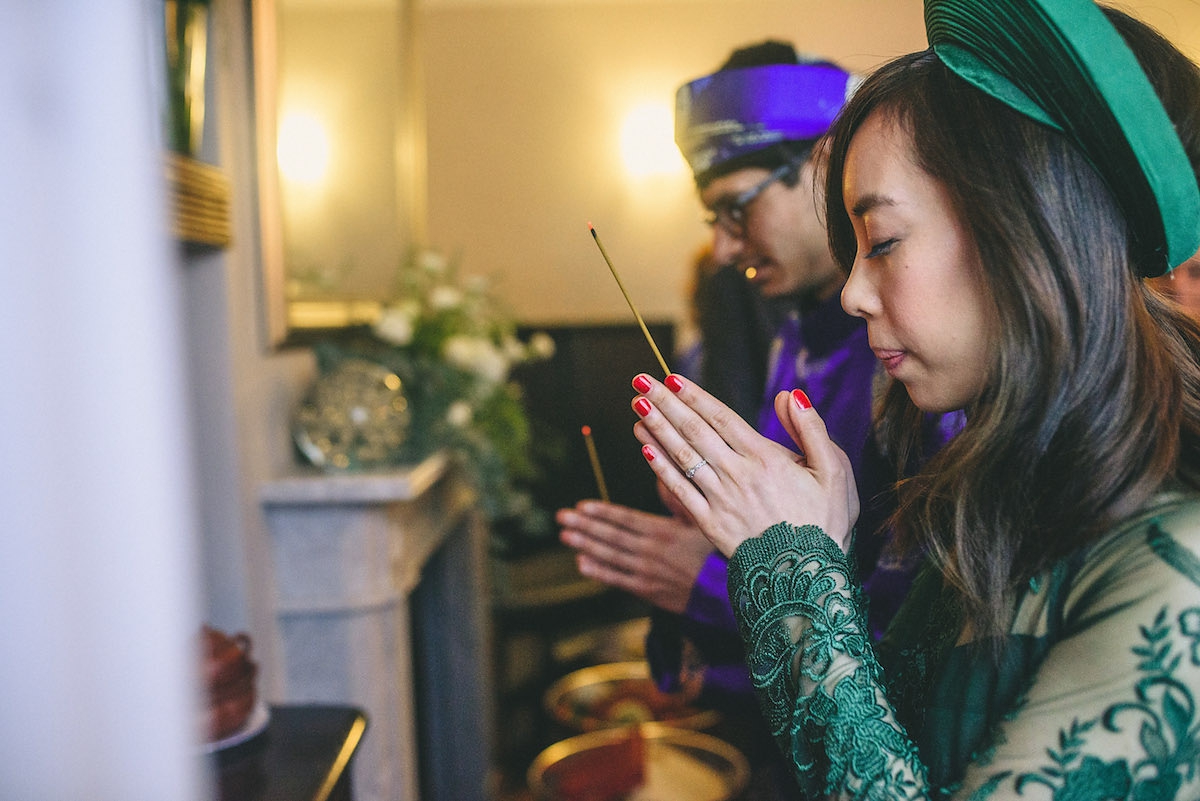 "My bridesmaid'due south were
amazing and made what would accept been a very stressful state of affairs fun, yet productive. All the girls were respectful of my tight deadline, so volunteered to wearable matching dresses from the No. 1 Jenny Packham
drove – the 'Olivia' blueprint."
"A family friend created the pewter-coloured satin á
o d
ài, which the girls wore for the tea anniversary. And I gifted each of my bridesmaid'due south a Jo Malone perfume from the range."
"I was introduced to Amar by a mutual friend, whilst looking for a firm share in Oxford. Later on a year of friendship, nosotros shared our showtime date, where Amar organised a food tour in Edinburgh followed by a hike up Arthur'due south Seat. We both share a love for the outdoors, and after v months of dating we hiked in Nepal to the base of operations of Everest and I supported Amar during his third Fe Homo triathlon."
[ASD-PREMIUM]
After a year and a half together, Amar proposed on an afternoon in July, whilst rowing on the Serpentine. We nearly capsized (every bit he got down on one knee) presenting a vintage-inspired ring from Rust Jewellery. I was so overwhelmed with surprise and emotion, that I never really answered 'aye!'. Withal when safely dorsum on land, we mutually agreed on a short engagement."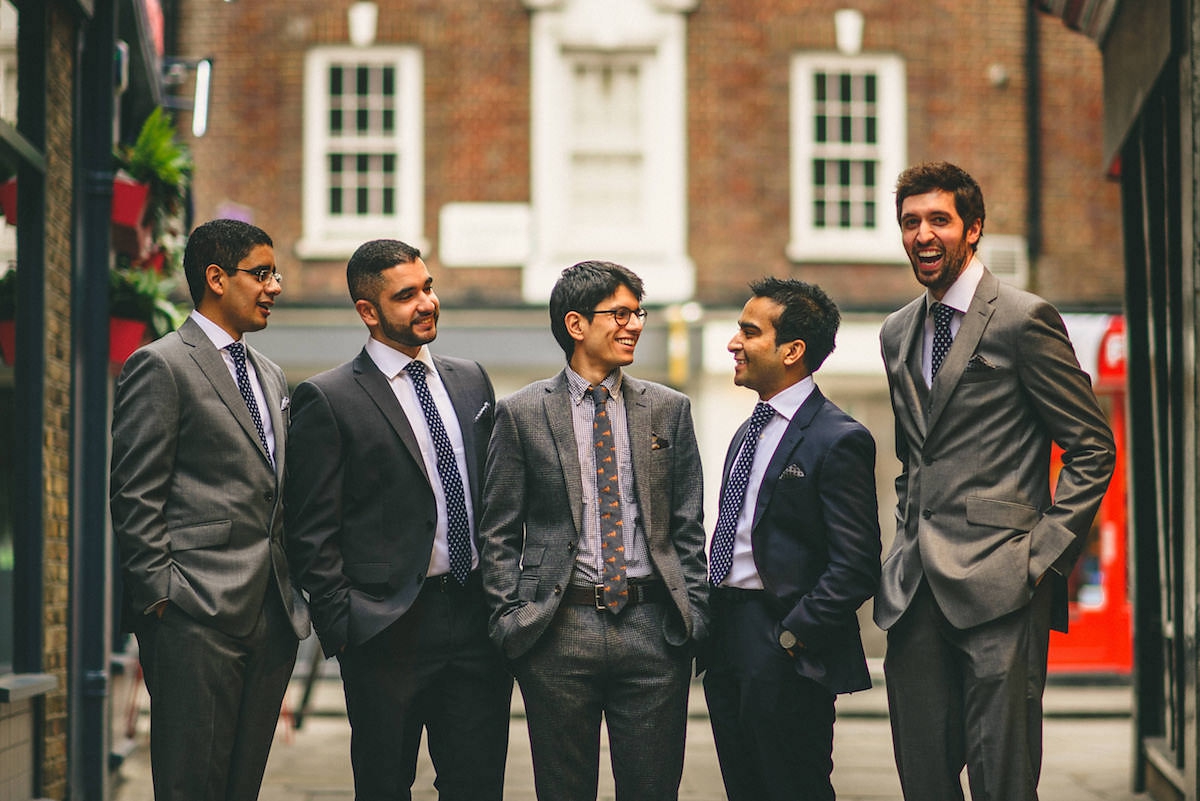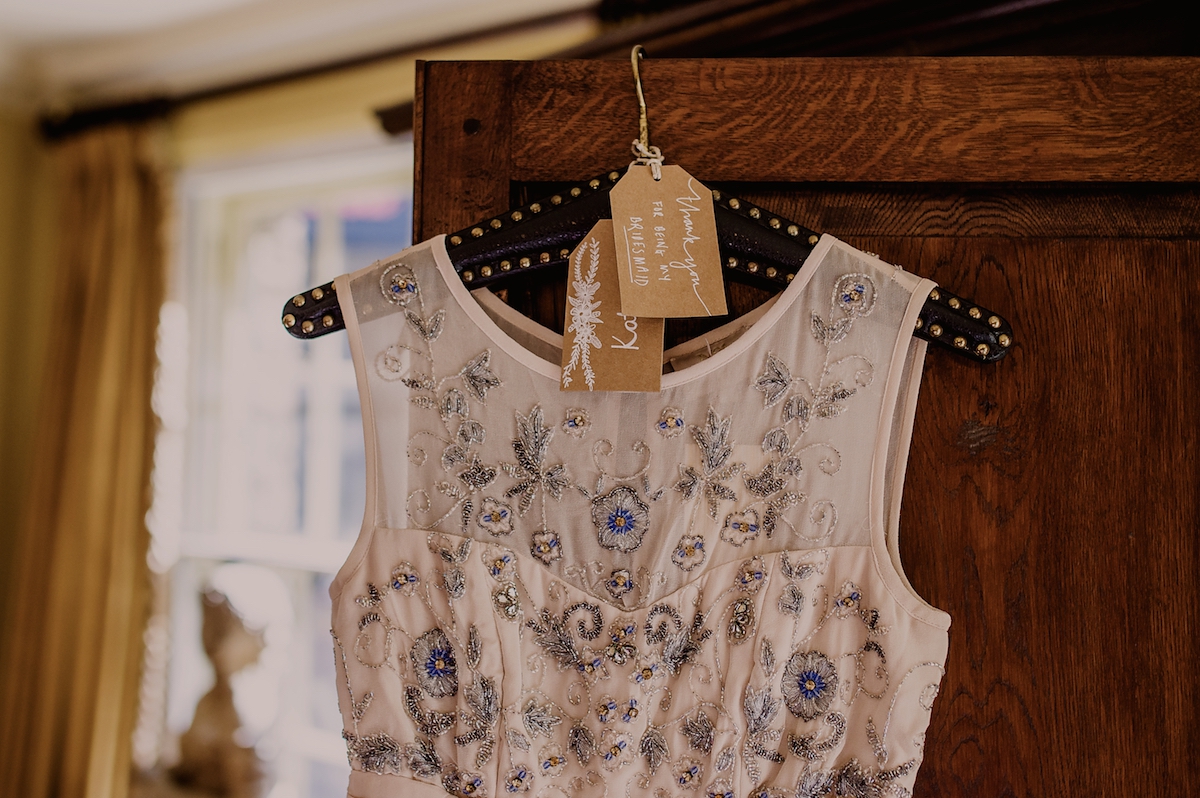 Nicky Kestler from Moggy Blooms prepared Emma's incredible wild bouquet organization with seasonal roses, eucalyptus, thistle, lisianthus and daisies. Nicky likewise created twenty unique floral tea cups (made from the bride'southward own vintage collection) for the centre pieces, which were gifted to a guest from each table – and Emma included decorative vintage lampshades to compliment the tea cups.
And the bride and her sister spent a wet early morning before the wedding ceremony selecting flowers from the Covent Garden Market, which bridesmaid Lizzie used to create the gorgeous complimenting bouquets for the girls.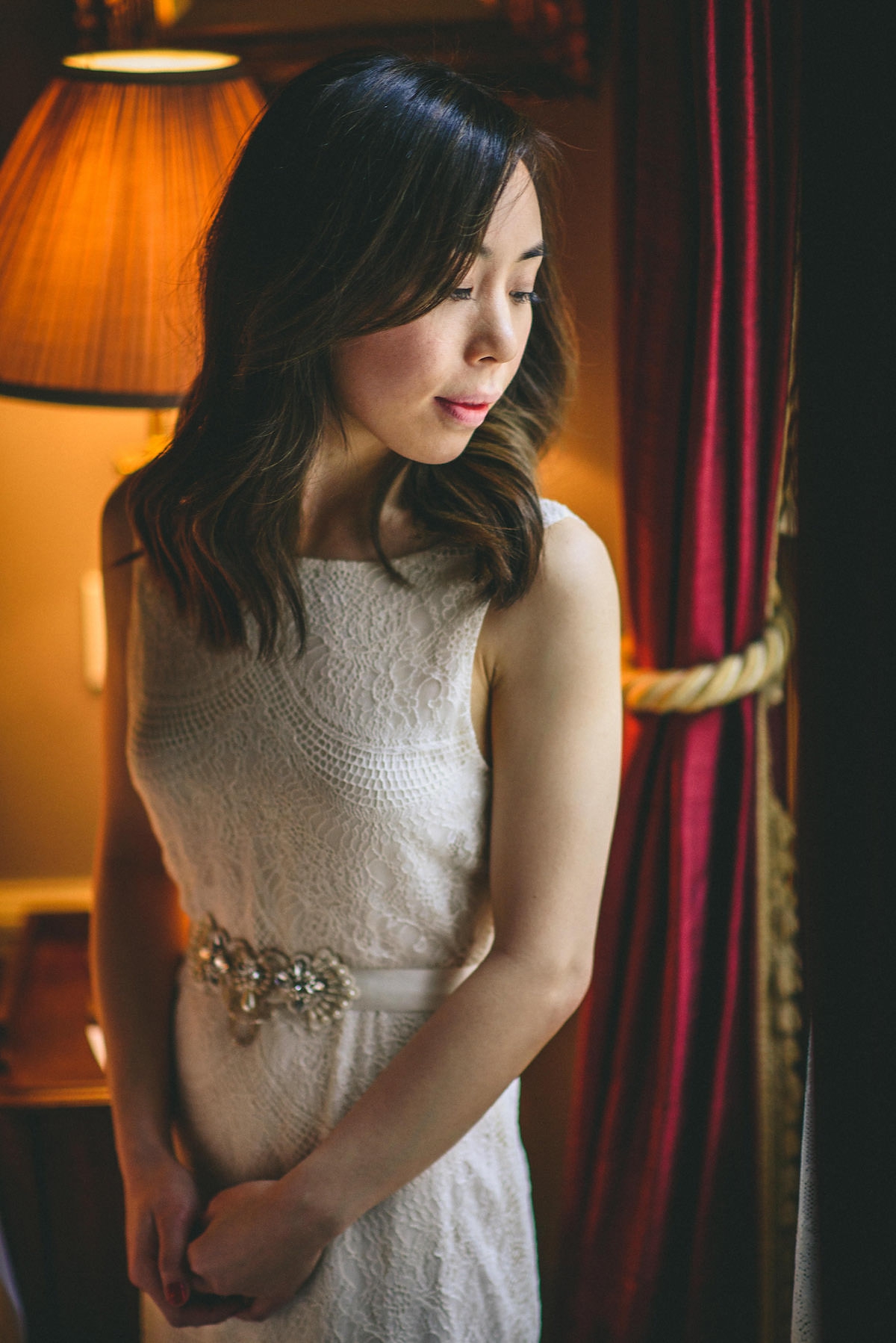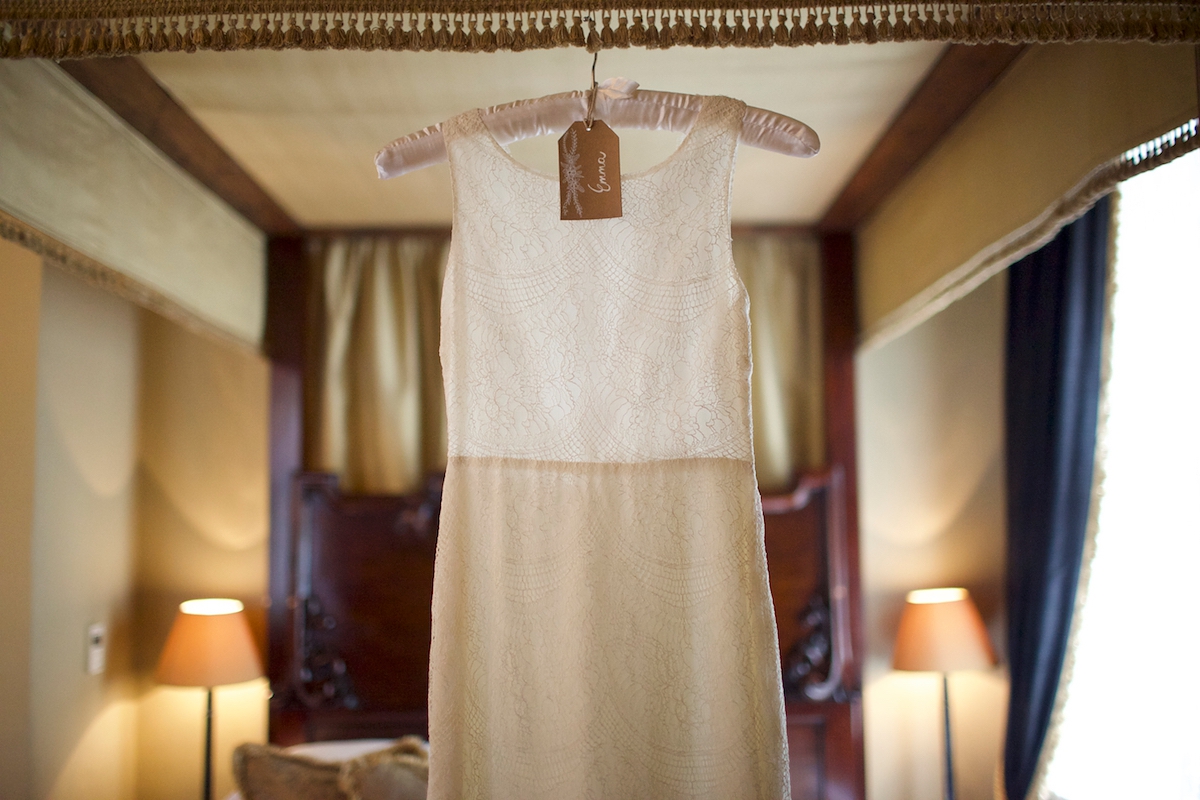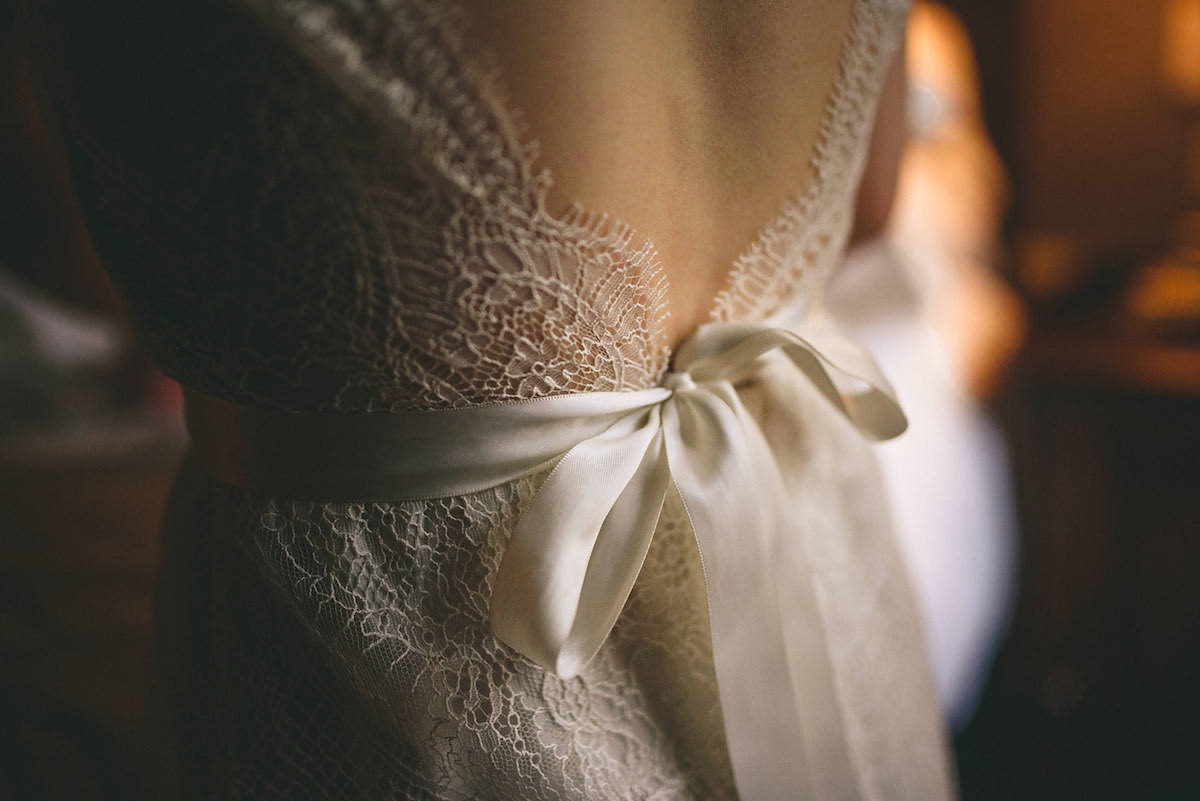 Emma was accompanied down the aisle by her begetter, maid of accolade (her sis Wendy) and her bridesmaids to an audio-visual cover of 'Wonderwall.' They wanted to personalise the ceremony by writing their own vows and asked for close friends Liz, Risha and Maj to each fix a reading for our anniversary.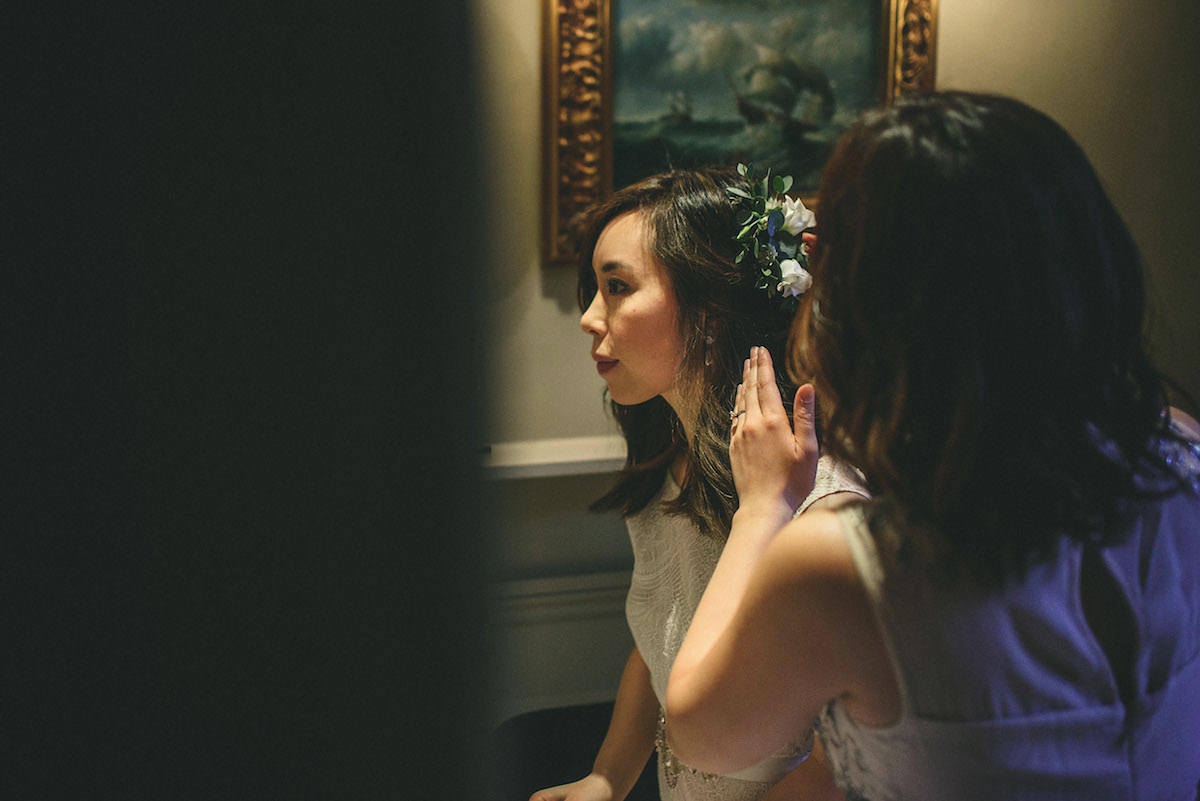 "Amar recited his vows to me, which he completed with our secret hand-shake. I wrote a verse form, which I was almost unable to finish, overcome by tears, which likewise provoked floods of them amongst our guests."
"Maj selected a reading from the book 'Oh, the Places Yous'll Go!' by Dr. Seuss, which proved humorous yet was a deliberate remark on the several mountains we take climbed together; and those which we take withal to conquer. Coincidentally, we summited Mount Kilimanjaro during our honeymoon in Tanzania."
"Congratulations!

Today is your day.

You're off to Great Places!

Yous're off and away!

You accept brains in your head.

You have feet in your shoes.

You lot tin steer yourself

any direction yous cull.

OH! THE PLACES YOU'LL GO!

You'll be on your mode up!

You'll be seeing peachy sights!

Yous'll bring together the high fliers

who soar to high heights.

You won't lag backside, because you lot'll accept the speed.

You'll pass the whole gang and you lot'll soon take the lead.

Wherever yous wing, you'll be best of the best.

Wherever you get, you volition top all the rest.

And will you lot succeed?

Yes! You will, indeed!

98 and ¾ per centum guaranteed.

Child, YOU'LL MOVE OUNTAINS!

So…exist your nameBuxbaum or Bixby or Bray

or Mordecai Ali Vn Allen O'Shea,

You're off the Great Places!

Today is your day!

Your mountain is waiting.

So…go on your way!
"Peter Shatwell, the brother of a close friend, is an incredible pianist and able to recite the works of Ludovico Einaudi, then we insisted that he play for us during our ceremony. He is a physics pupil at Purple, so kindly offered his time between his studies. He played our favourite pieces 'I giorni' and 'Nuvole Bianche' during the signing of our register and reception drinks."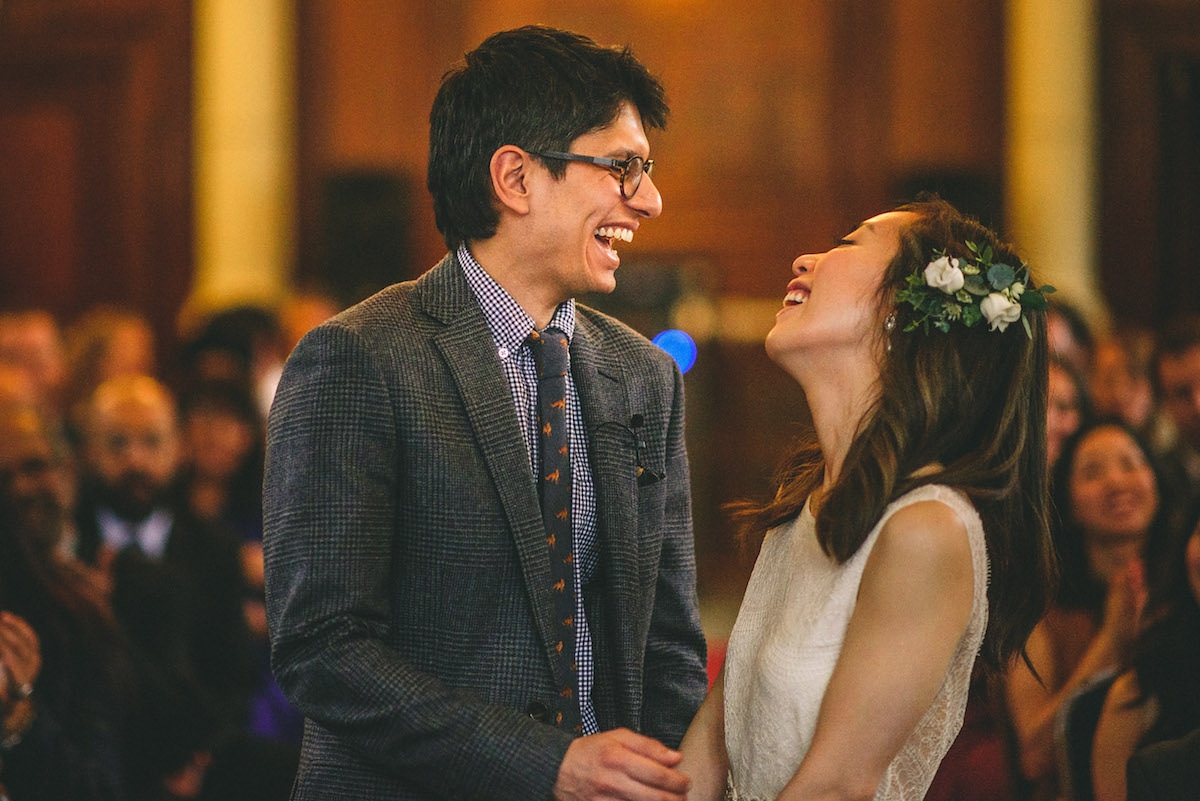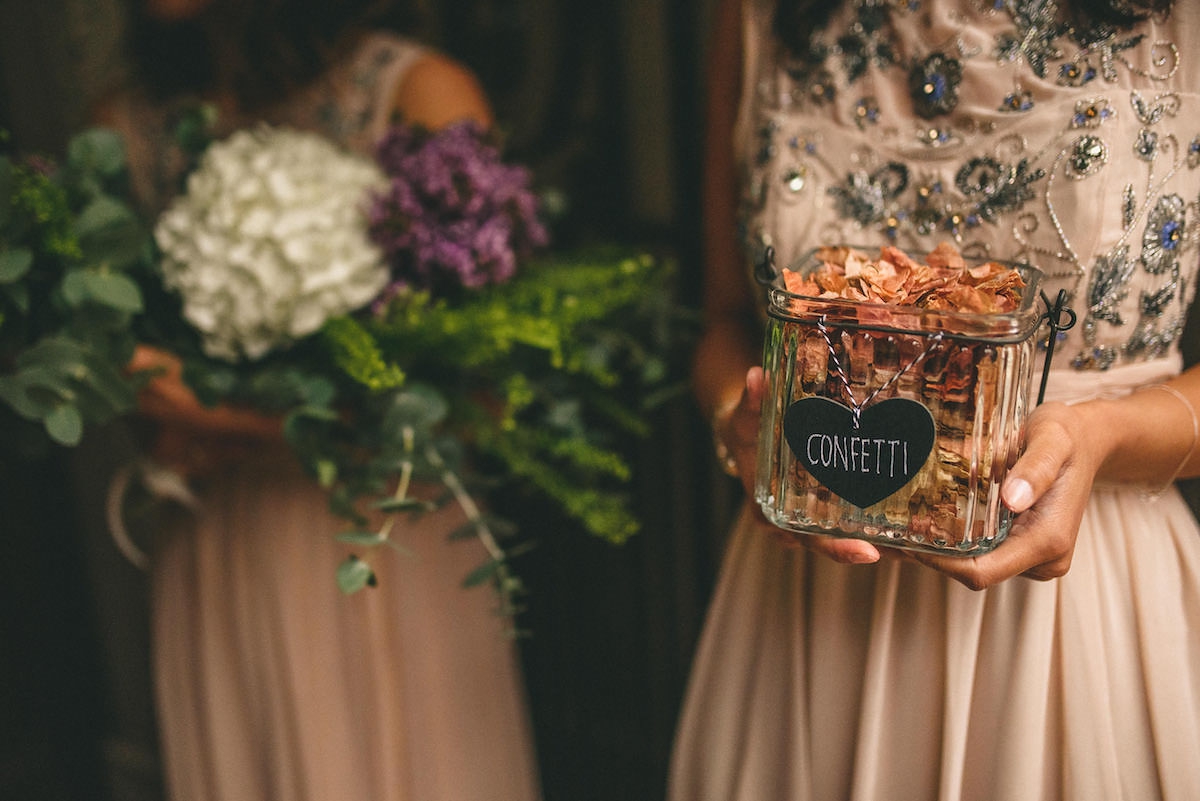 London Wedding Photographer Mick Shah of Miki Studios as well photographed Emma's sister's wedding and hence the bride knew she was onto a winner with his style and ability to relax the camera-shy couple.
"Amar and I are both camera shy, and then Mick reassured us that he would capture the solar day in a reportage-manner. If you lack the conviction and worried near being the centre of attention then I would highly recommend Mick, as he was brilliant at easing away any awkwardness with his humour and personality."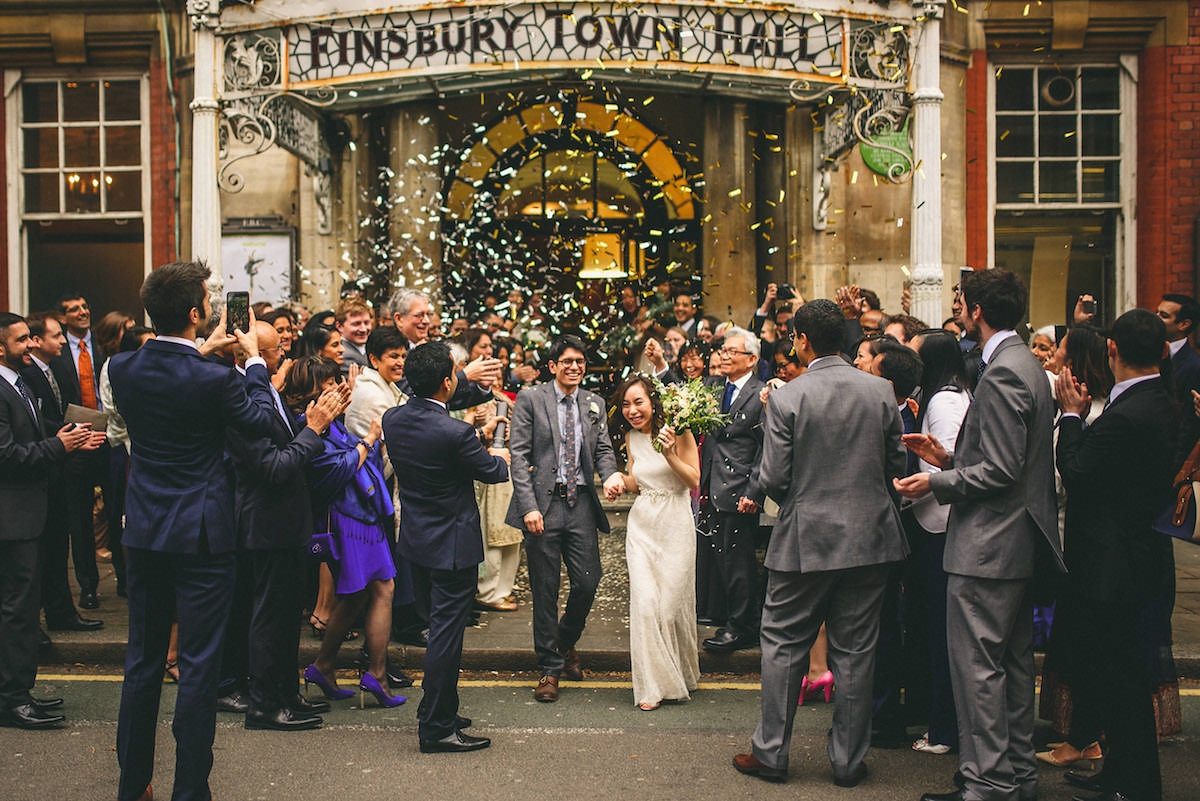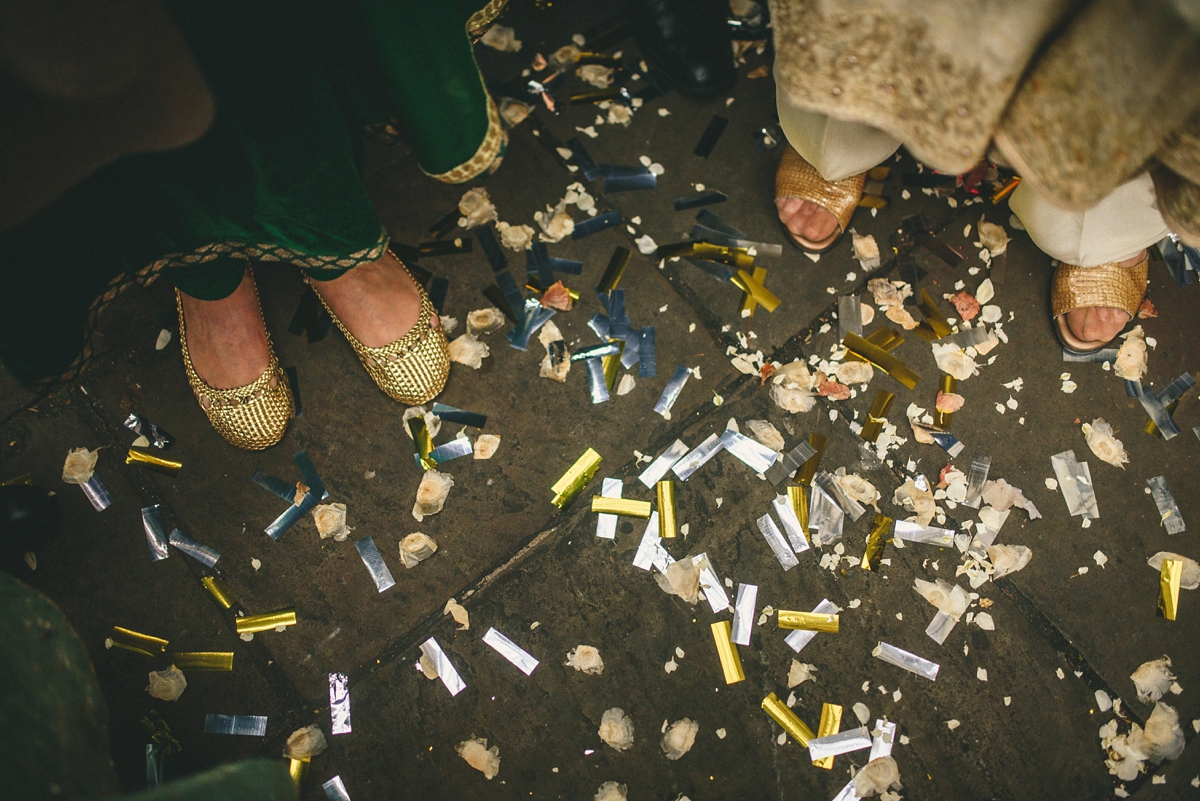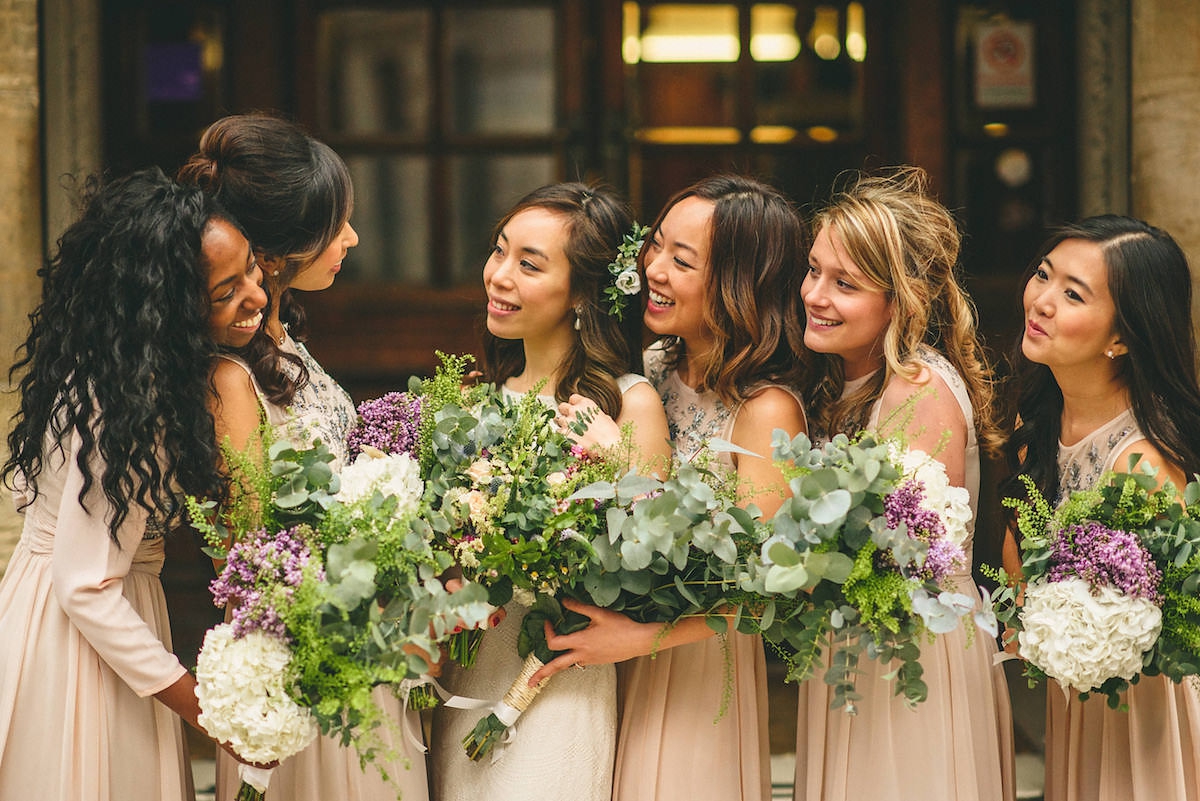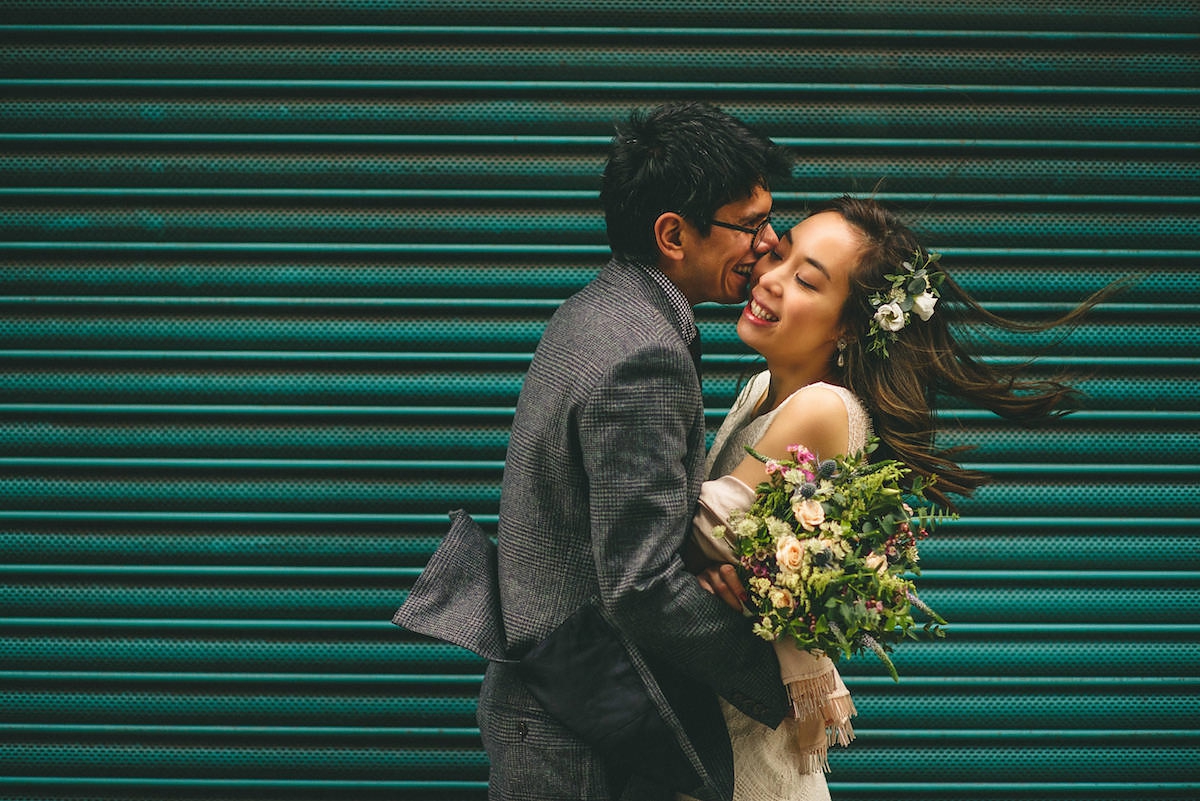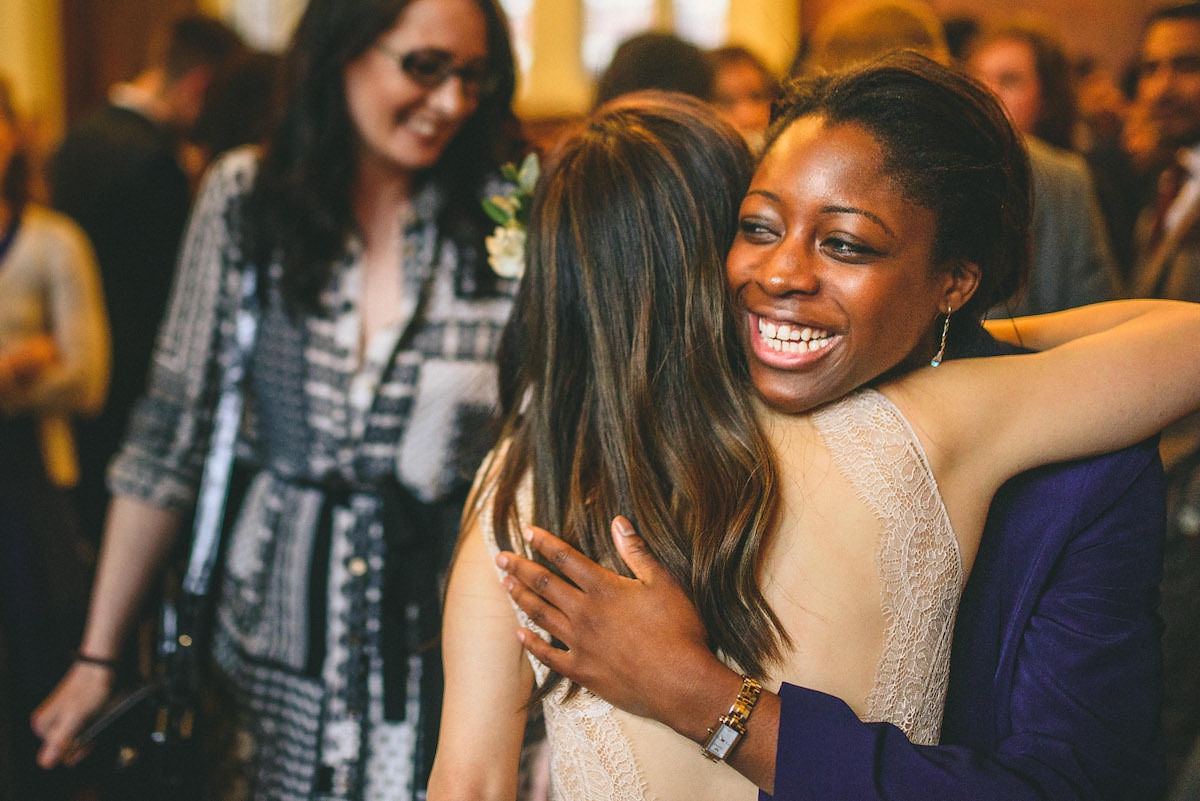 Emma designed the stationery herself and in the five months leading up to the wedding, most evenings and weekends were spent making the invitations, wedding signs, chalk boards, menus, seating plan and the identify names. Look at the incredible seating programme with calligraphy writing – information technology's absolutely stunning!
"I wanted a stained glass window and searched at car boot sales and reclamation yards. I was lucky enough to observe one with enough glass panels in a gorgeous colour. We now have it displayed in our home."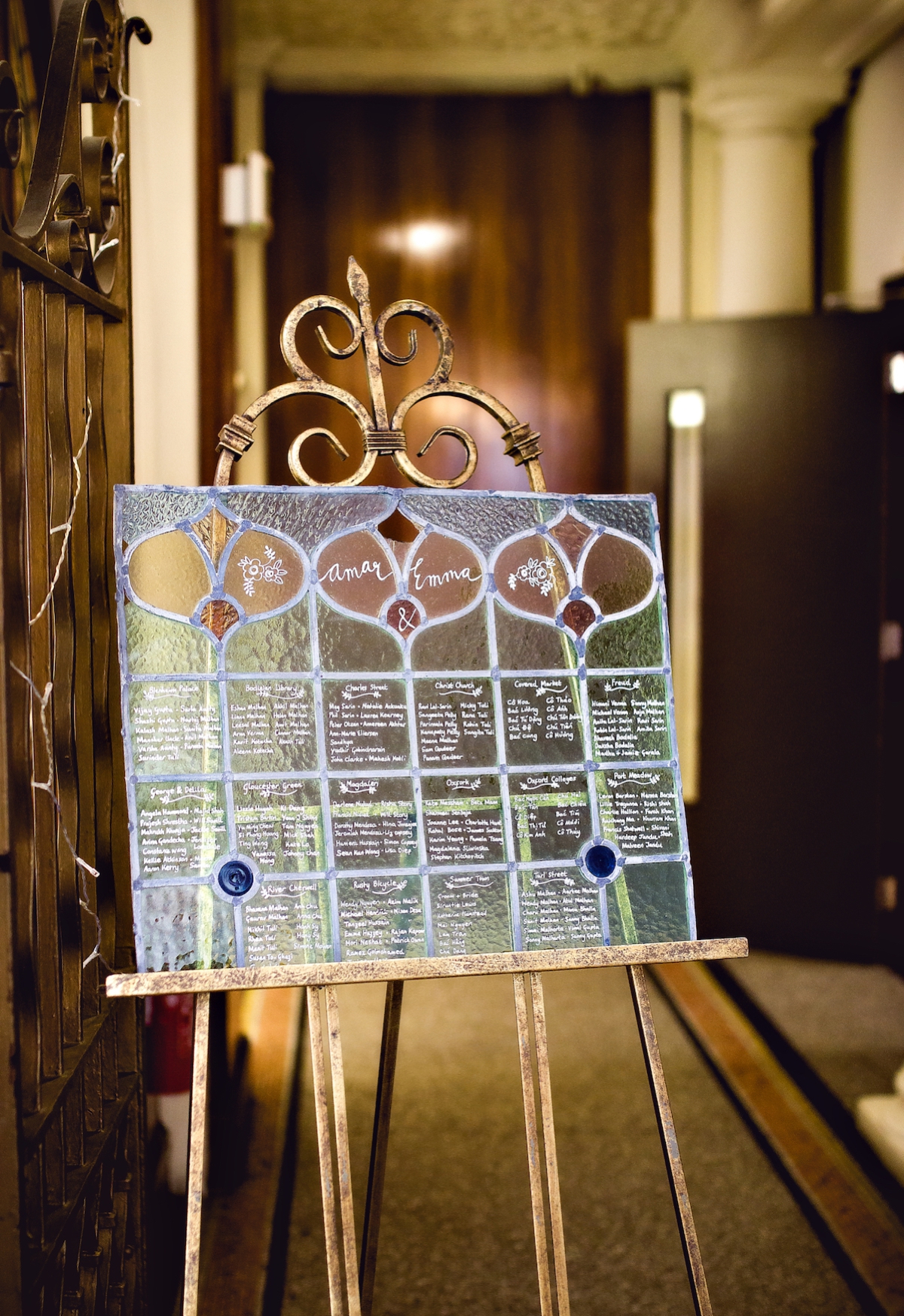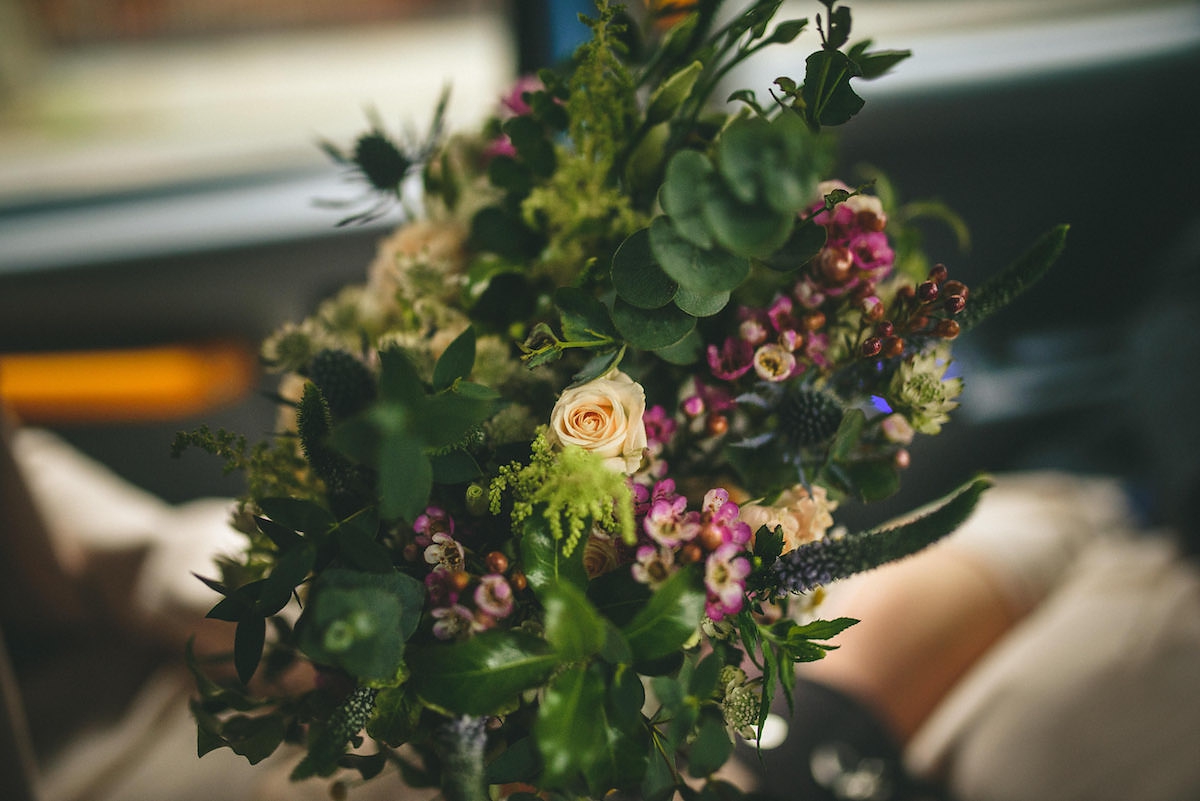 Amar and Emma felt the 'Yard Hall' of the Town Hall required very little décor, and intentionally decided to continue things elementary, to avert a detracting from the original features such equally the Clerkenwell Angels.
"Nosotros are both foodies and had high expectations of the food we wanted to serve. As the town hall was a dry out rent, we spent weeks collecting quotes and meeting caterers. Paul of Warburtons Catering won us over, after tasting a succulent sample carte from his picayune caf
é in Hackney and he created a superb three-course meal, likewise as an evening spread of cheese and nibbles."
"Our cake was entirely handmade past my very talented sister-in-law, Sangeetha Pelly. The semi-naked three-tier sponge block consisting of lemon, Victoria and chocolate was covered in vanilla foam icing and decorated with fresh flowers. Having failed to grab a slice before it had all vanished, I was reliably informed by the guests that information technology was succulent."
"
Wizard Adam Keisner performed sleight of hand and shut-up magic during our reception. Nosotros welcomed 200 friends and family unit for our reception, then it was the perfect manner of breaking the ice among our guests."
"Adam was so dedicated that he stayed on for an actress hour, performing magic at the dining tables whilst our guests were being seated. He blew me away with a Rubix cube magic trick."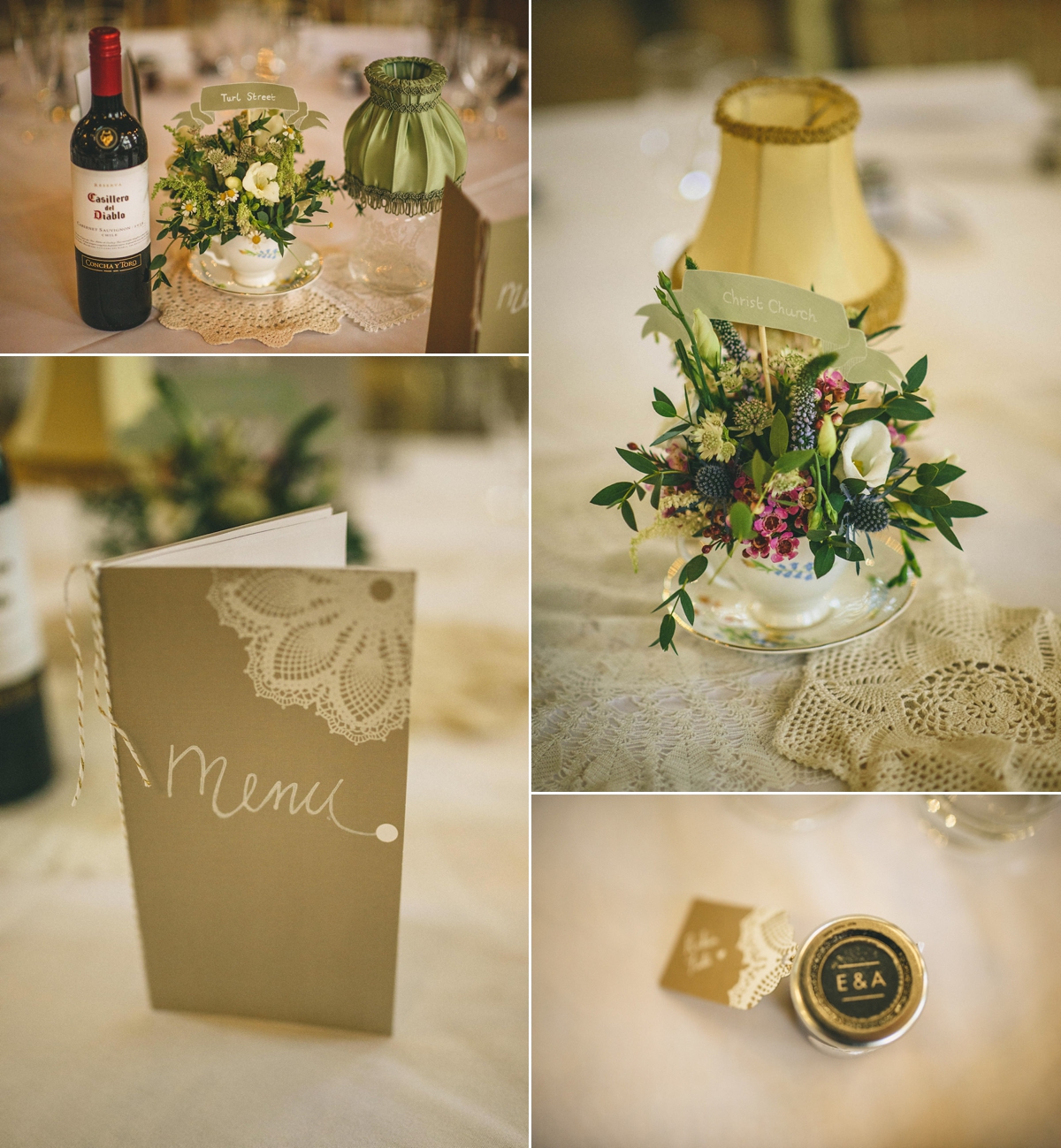 "The wedding was always going to be all about our guests. The nutrient had to be plentiful, the open up bar had to be well stocked, and the entertainment rocking! Equally we had decided to have on the majority of the jobs ourselves, nosotros left little contingency for tasks over running, and equally a outcome nosotros sacrificed valuable personal time on the solar day. At that place was fiddling freedom for pampering, relaxation or reflection, and in retrospect, we should have delegated the time consuming tasks to the professionals, assuasive ourselves the freedom to relax a fiddling, enjoy a drink, and political party similar our guests."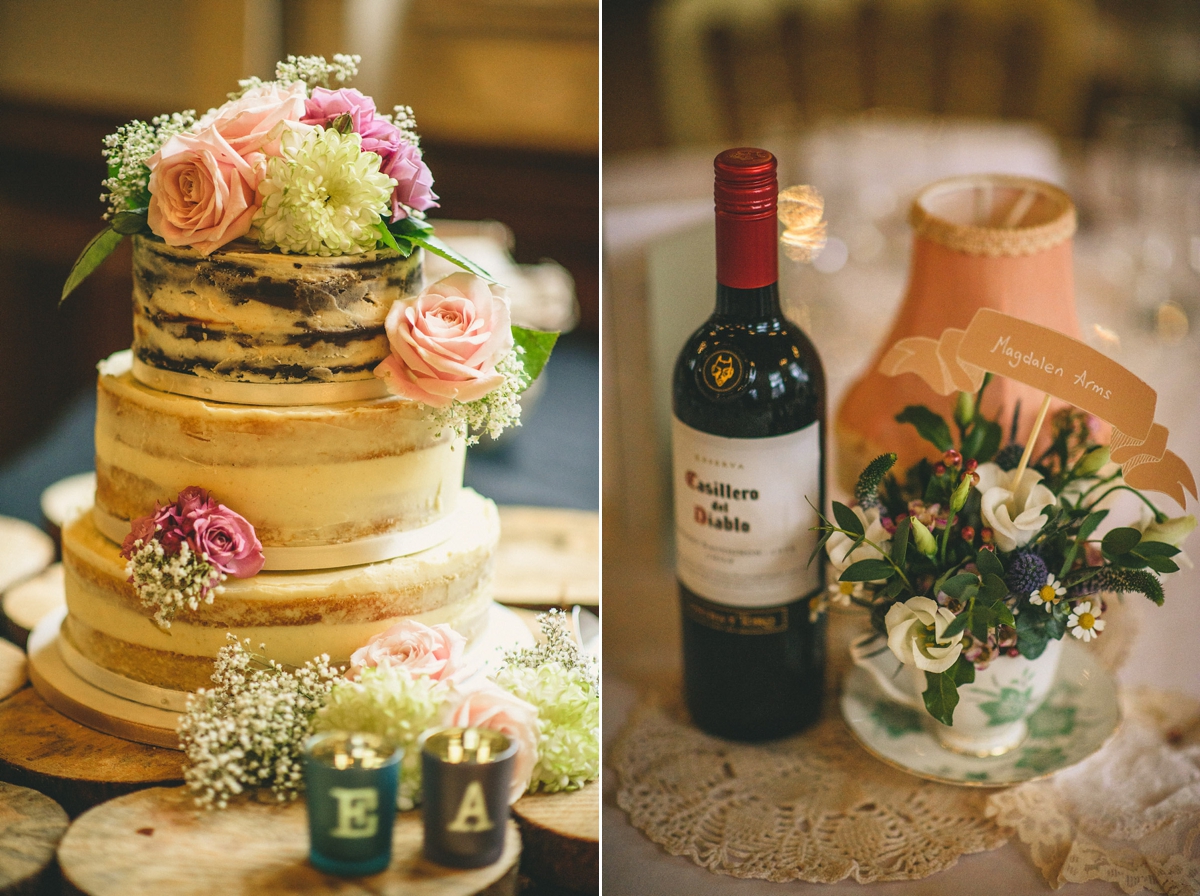 "As a nod to our interracial union, we mixed the traditional British with the exotic by selecting 'Strawberry with Champagne' and 'Mango Chutney' flavours for our personalised mini jam jar favours from Tiptree, Wilkin & Sons. The 'Due east&A' stamps to label for the jam jar lids were via Etsy."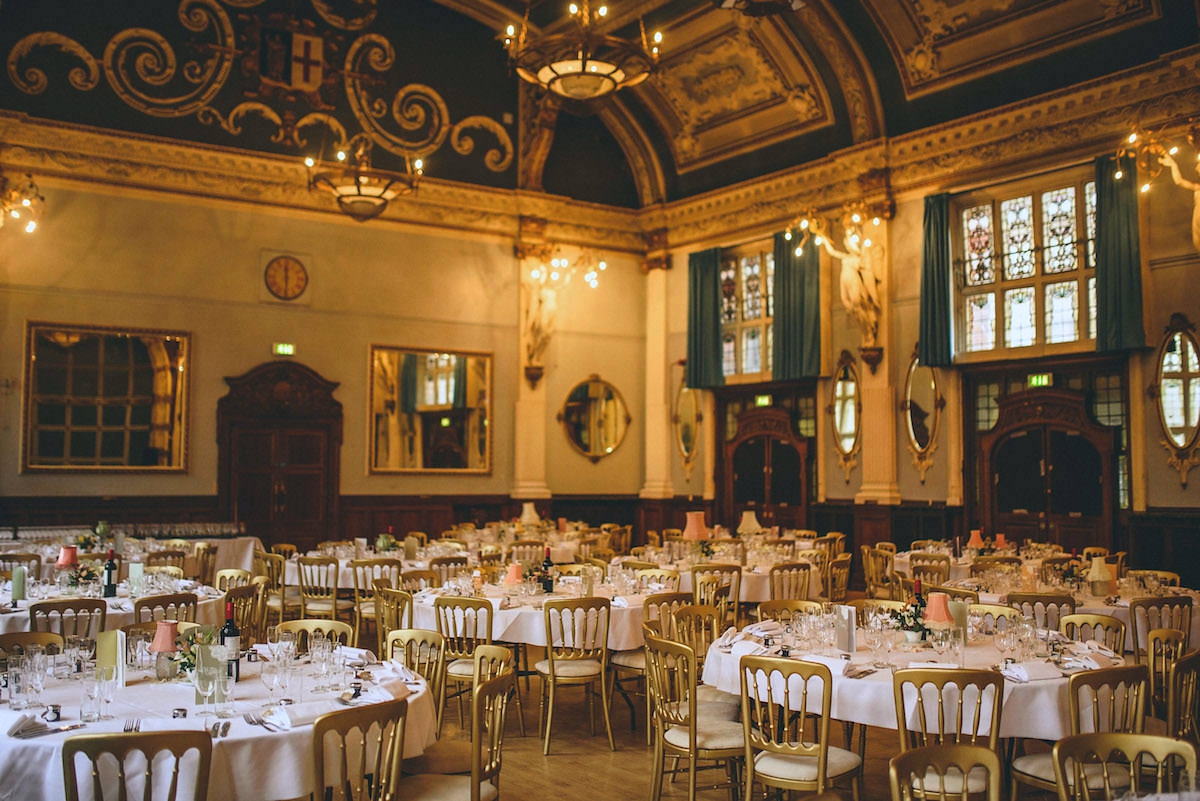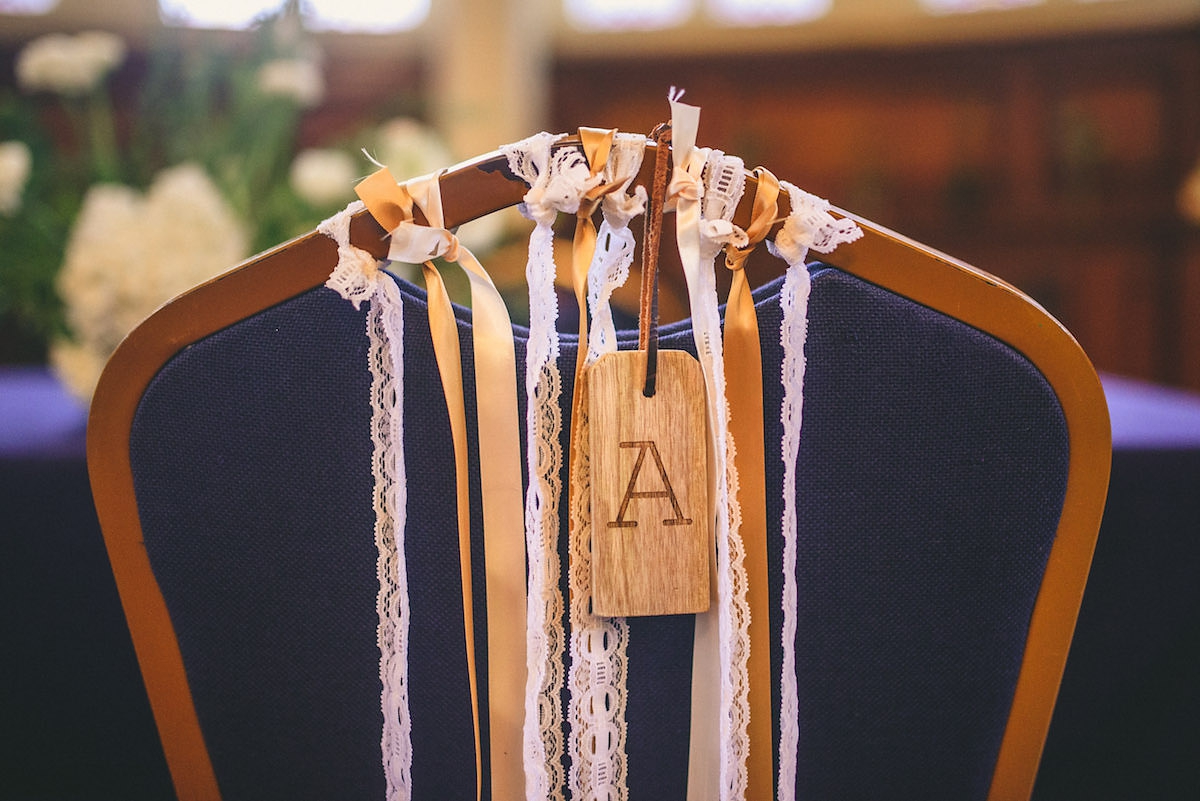 Festival Nights played folky covers and provided a funky festival vibe for the guests, who are withal giving compliments to the helpmate and groom. The band played Vance Joy's 'Georgia' for the get-go dance and finished the dark with 'Teenage Dirtbag'.
"The all-time moment for us was seeing everything come together on the mean solar day. Aye, we had things get wrong (the wrong chairs were put out, the table arrangements were wrong etc) but these blips didn't affair, equally we had our nearest and dearest nowadays to witness and celebrate the beginning of our lives together."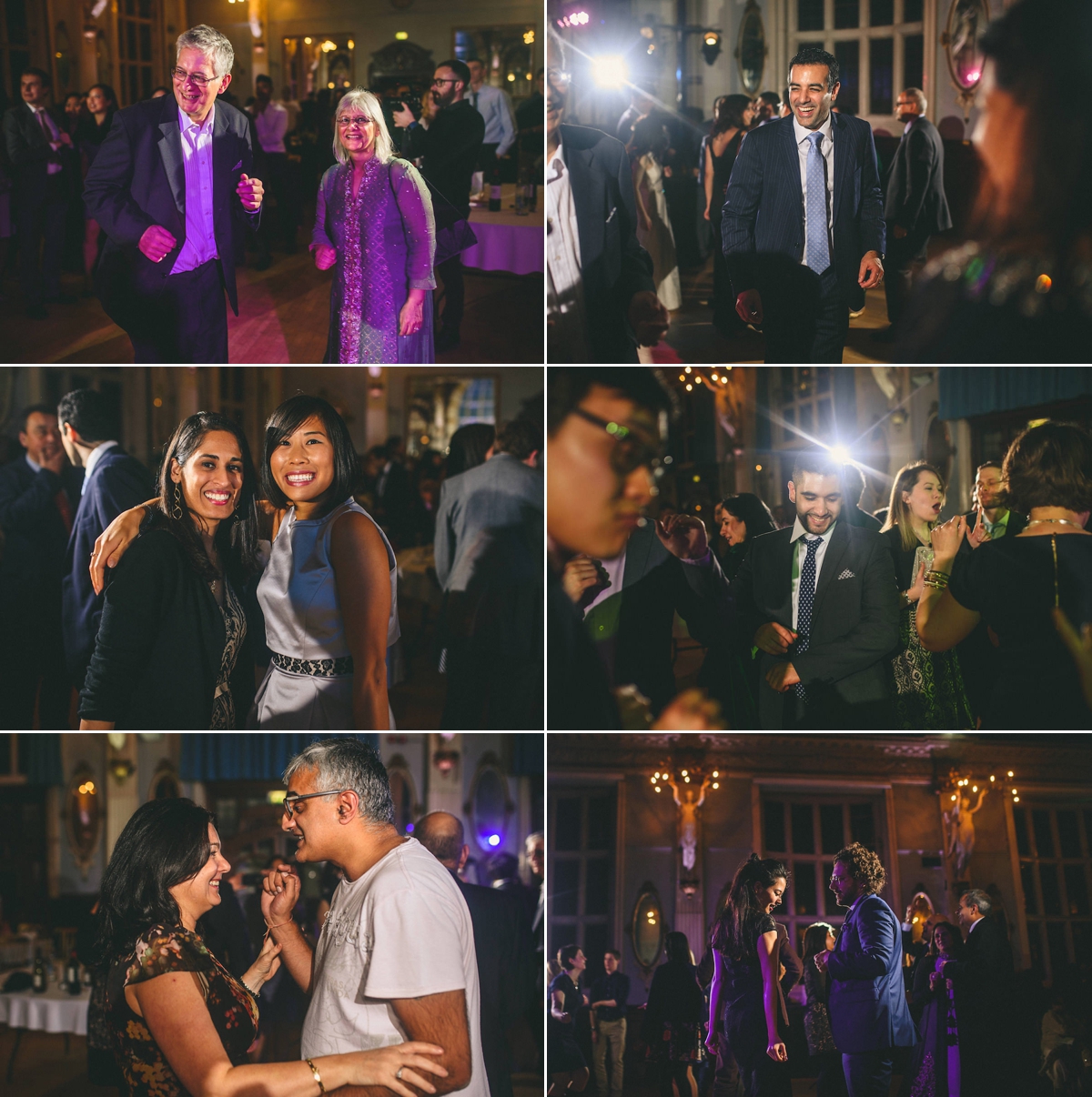 Words of Wedded Wisdom

"If your budget allows, I would highly recommend considering a hymeneals planner, especially if you are planning a dry out-rent. We were extremely hands-on and had physically and mentally prepared ourselves for our DIY nuptials. The day flashes by in an instant and if you lot can spare yourselves the freedom to savour the 24-hour interval, rather than managing it, you will thank yourselves in the weeks following your mean solar day."
"
Despite it being hard piece of work, we would not modify the day i chip, but importantly we realised that if you miss out on enjoying your day, it is an experience that you will never be able to get dorsum."
Thank you lovely Emma and Amar for giving us a sneak peek into your nearly beautiful 2-day celebrations. And a huge cheers to Mick from Miki Photography for snapping such delightful, heartfelt pics of the happy couple so they have oodles of memories to treasure.
For even more fabulous fusion weddings we've celebrated on this weblog, see here.
Wishing you all a relaxing rest of Dominicus lovely ones.
Love Jo -xo-
Source: https://www.lovemydress.net/blog/2017/10/traditional-tea-ceremony-vietnamese-fusion-wedding-london.html
Posted by: Fusiontr.com