Sharing how I took years of photos and organized them into yearly photobooks for my family unit to savour. Tips on organizing your photos and printing them with a modern artful.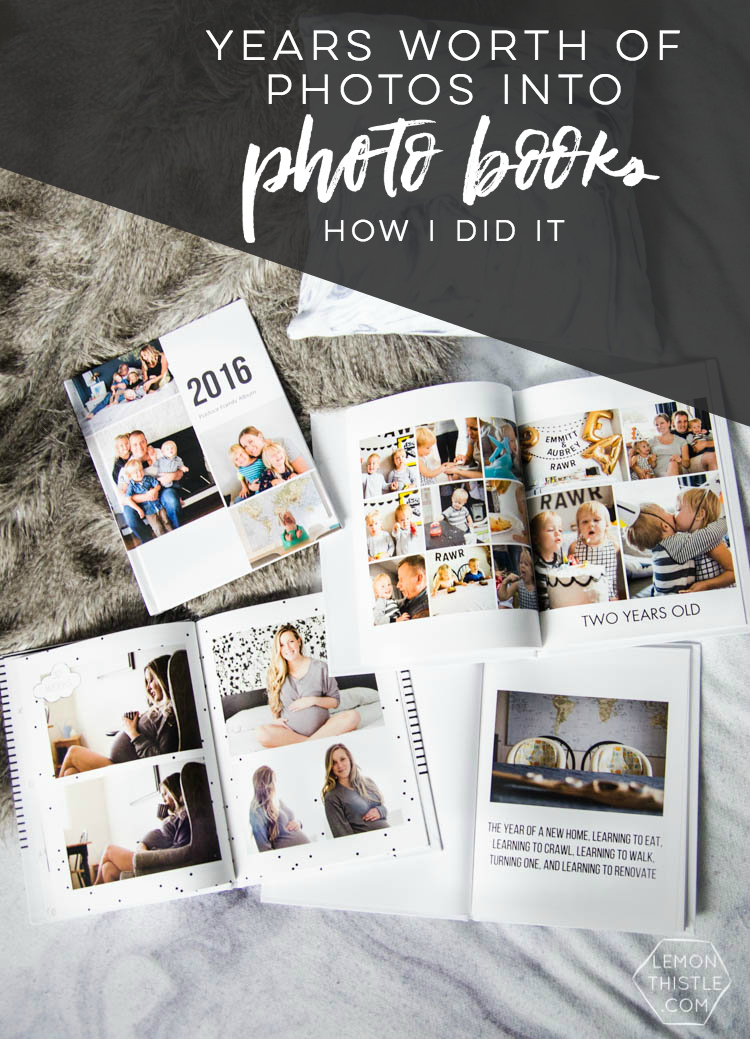 I partnered with Mixbook for this postal service dorsum in 2017- and I'm still loving their products. You can read all my policies correct here.
Y'all guys! I am Then excited to be sharing this today. Not only because the photobooks are rad but because this task has been in the back of my mind for YEARS!
I'thou sure I'm not the only one that has way more photos on their difficult bulldoze than they'll ever enjoy. And as soon as I became a mom I knew I wanted to document those kids the best I could and so they could have something to look back on the same way that I have something to look back on- I mean, who doesn't love looking through baby photos. My dad is a photo lover so I retrieve I have WAY more most people my age, but I am so grateful for that. But even though I had these groovy intentions… I have never managed to get it together plenty to make a scrapbook or album or anything. I made an appointment photo book… and a nuptials photobook… and and then I never did another thing again.
And every time we got photos printed, my kids would pick them up and carry them around and love on them and osculation them and spend then much time looking at them… I was reminded that I NEEDED to go my digital photo collection under control so my family could really relish all those memories that I'd documented. I totally take after my dad in loving photos so between that click happy attitude and blogging I take two external hard drives and over 2 million files. two million, y'all guys. That's crazy pants.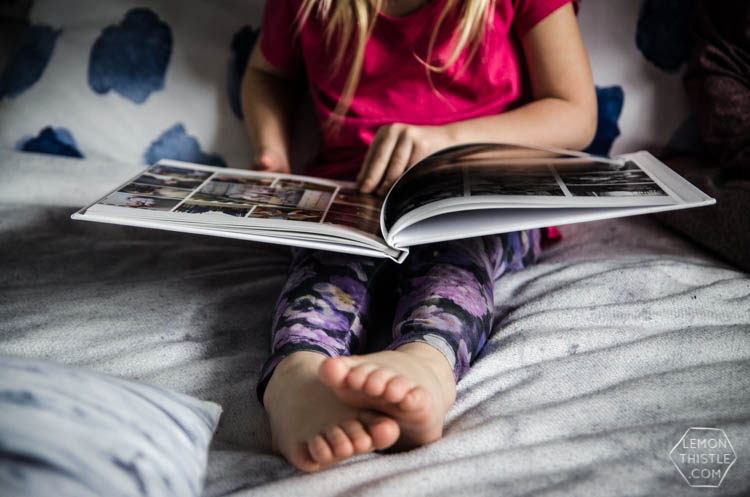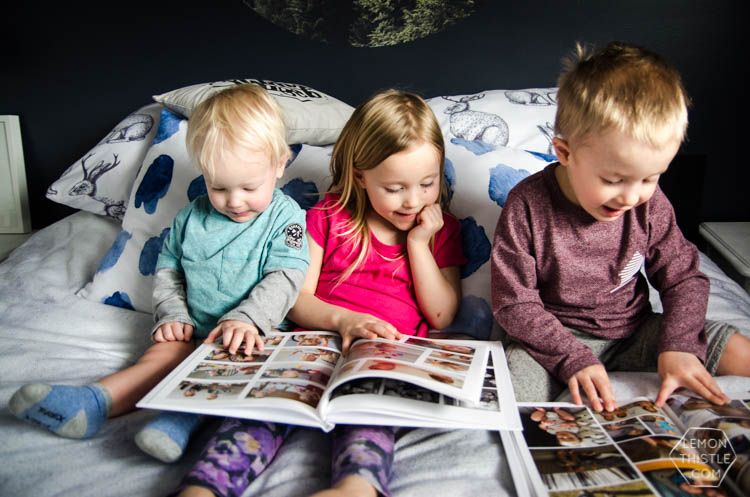 So today I'm not just going to talk about how I printed up my photograph books with Mixbook (and I've got a MAJOR discount for you lot at the bottom of this post!)
but I'chiliad also going to talk well-nigh how I sorted through the mass amount of photos from the past four years (I simply went dorsum to babies being born) and organized them to hands make them into yearly photo books. I hope you- if I can practice it, you can too. I did this in two weeks simply a chip of fourth dimension in the evenings- from collecting all my photos to hitting order on the photo books. I'm SO proud of getting this done for my family- I've been letting it stay in the back of my listen for years and now that's GONE. This is a fleck of a brute of a post, it has all my tips so I've cleaved it downwardly into headlines to make it easy for you to discover the tips you need.
Why yearly books
The outset affair I did was decide that I wanted to stick with a yearly photo book- but ane per yr. I recollect reading about yearly photo books a few years back and thinking information technology was the perfect way to limit how much time and how many photos y'all poured into a book. I remember when I was younger and started scrapbooking (that was a short lived time), I would brand a few pages for each special result but didn't know what to do with those every day photos. My mom always gets a photograph book printed from her vacations. I love these ways of documenting life merely the thought of all those scrapbooks and photobooks stacking up over the years made me think they would never become opened- how could you ever look through them all? Plus it gives me a definite timeline to work with. I know that in one case a year now, I tin look back through my photos, make a book and motion on.
And because I accept printed wedding and date books in the past, I knew exactly what I didn't desire to accept on my bookshelves. I really wanted standard sized books so they could hang out on my bookshelves and look classy and not stick out too far or be bright flashy colors (my engagement 1 is a weird long skinny size and the cover is a suede orange- I'm not fifty-fifty kidding). Is that picky of me? Probably, but I only spent hours of my life styling a behemothic bookshelf 😉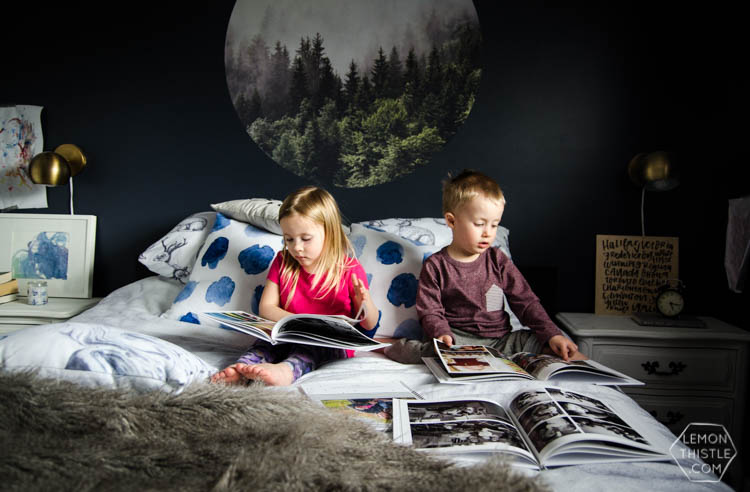 And so let'due south first with how I organized these MASS amounts of photos.
I'k non certain I've accurately explained what a disaster my photokeeping state of affairs has been. I've gone through 3! computers since getting married. Well, I had one when we got married and when information technology died, I bought my dad's off him and that one died a year and a half agone. So everything lives on external hard drives in dorsum ups.
What I do have going for me is that a few years ago, I started dumping all my camera photos into monthly folders instead of individual outcome named folders. And then equally I edit them (web log), I make a folder for my 'picks' and put the ones I want to go along (family wise) in there. And so I had those for ii/ four years. If yous're looking for a mode to organize your photos from here on out… I'd totally suggest this.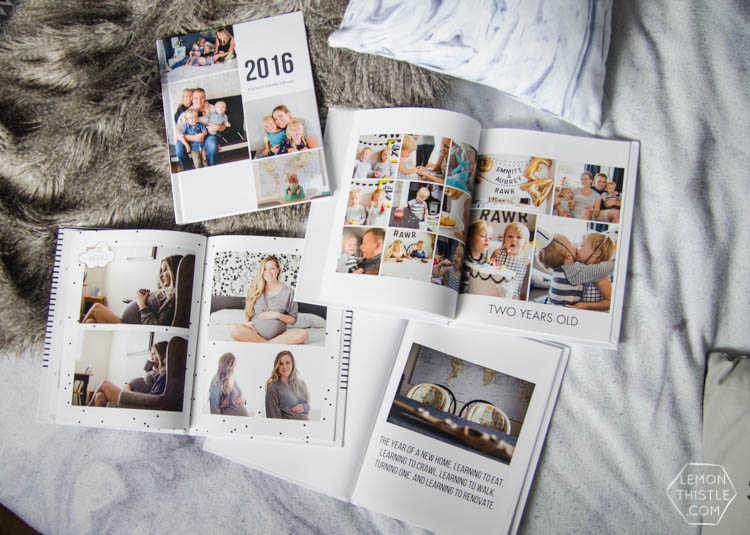 How I gathered my photos
SO The commencement thing I did was make folders for each year's photo album. I added those to my finder sidebar so they would be easy to re-create photos into. Then I started working my way through each folder one by 1 and copying photos I loved and pasting them into the appropriate year. That's easy to do when photos are organized by twelvemonth to first with. But if you're anything like me- so many of the photos you treasure are on mobile. And they don't get neatly organized into yearly folders.
This is mayhap my favorite tip… and it'due south not even something I did- information technology'due south only that computers are and so smart. My mobile photos folder had 1000s of photos from the by half dozen years. And then I right clicked and hit sort past appointment. I'thousand not sure about PC, merely I'grand sure it'due south similar… this is Amazing. It sorted all my photos by year into little subheadings. With one click. And then I simply went through and copied the ones I wanted to keep into the folders in my sidebar. This is the part that had intimidated me And so MUCH and it couldn't take been easier. Why did I permit it stress me out so much?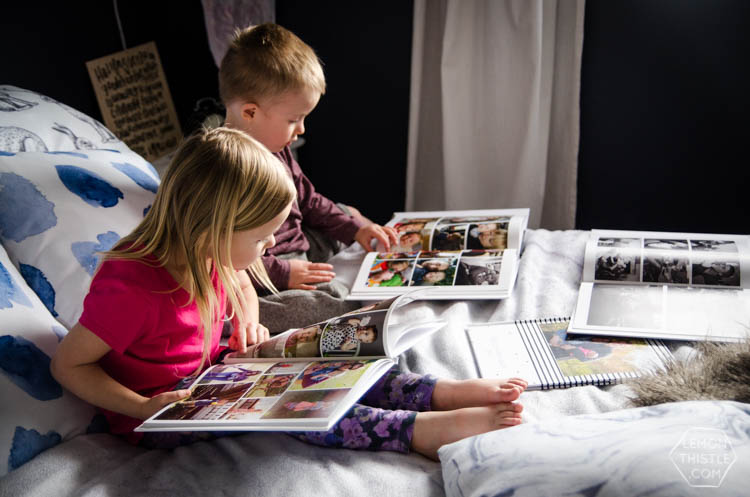 At this point… I'one thousand not existence all that selective. If a photo made me laugh or grin or reminded me of a time… I copied it into that folder. These folders are going to exist the ones I really protect and back up, they're EVERYTHING I love about that twelvemonth. Let'due south be honest… having them all in one place volition be amazing in 20 years. I'chiliad never going to say, what was that photo from the november the twins were born? And search through all the folders to find it. I'd say… oh there was a cute photograph from the twelvemonth the twins were born. Now they're ALL IN I PLACE. I feel so skilful just having this washed, let lone the photo books!
I made notes of key holidays/events that I wanted to brand sure I tracked down photos for. Easter, Christmas, kids birthday parties… then I went through each yr that I'd collected photos for to make certain I hadn't missed anything. In that location were a few missing that I actually had to dig through archives and back ups for. I'thou so glad I fabricated these notes to double cheque.
Once I had all my photos in those folders, I went through each yr and put my favourites that I wanted in the albums in a 'for the album' sub-binder. It was way easier to pick from all the photos I'd already liked instead of every. unmarried. photo. on. my. machine. I'm not going to lie- I selected a LOT of photos. I made some custom layouts that held a ton of photos on a folio to make it easier to adjust all of them without having m pages in each volume.
Editing! (edited to add)

Alright, one of the questions I got most oftentimes was… If yous don't have profesh photos for your volume, how do you make them look awesome? And honestly… we go family unit photos done once a year and that'south Information technology. The residue are photos we've snapped, and a LOT of them are from our phones. I use Lightroom to edit fifty-fifty my phone photos before throwing them in here because it's how I edit all my photos. And information technology's the BEST for mass editing large batches of photos in a hurry. You tin can go a free 30 solar day trial of it to get all your photobooks washed if you don't have a need for it long term. For reference, the edits you'll probably want to brand are Exposure (brightness! You can specifically burnish just shadows or just lights too), Crop/Straighten, and Dissimilarity (make it pop!). You lot can probably ignore the residue!
Making the photo books
Next is the fun part- making the photo books! I partnered with Mixbook for this mail and subsequently using their service (I've used a few other ones in the by as well), I have to say that I'm and so impressed! I chose to make all of them in the viii.5″x11″ format. I love how many options in that location were for themes that weren't tacky. If you've been reading Lemon Thistle for a while at present, you lot'll know that I love blackness and white and minimal and that'south about it. No scrapbook newspaper backgrounds and very little writing and illustrations. I just beloved to allow the photos shine.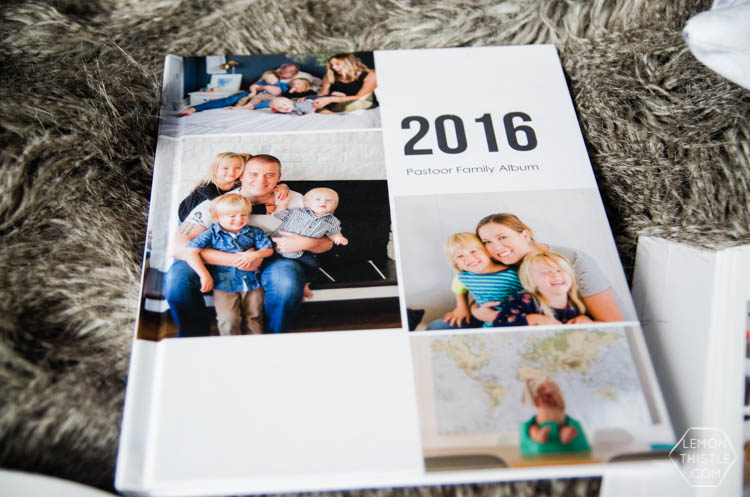 I actually picked four dissimilar themes to showcase them for yous guys but all 4 of them are white groundwork loving BEAUTIFULLY minimal themes. The one (2013, Mitt Painted Baby) has some blackness on white backgrounds that are super fun- perfect for the year the twins were born… merely that's it for fancy pants backgrounds for me. I should say- if your style is more vivid and colorful they do have so many options for themes. The 4 themes I used were: Bold White Photo Album (shown above, my fave!), Everyday Mod Family, Hand Painted Babe, and White Grid.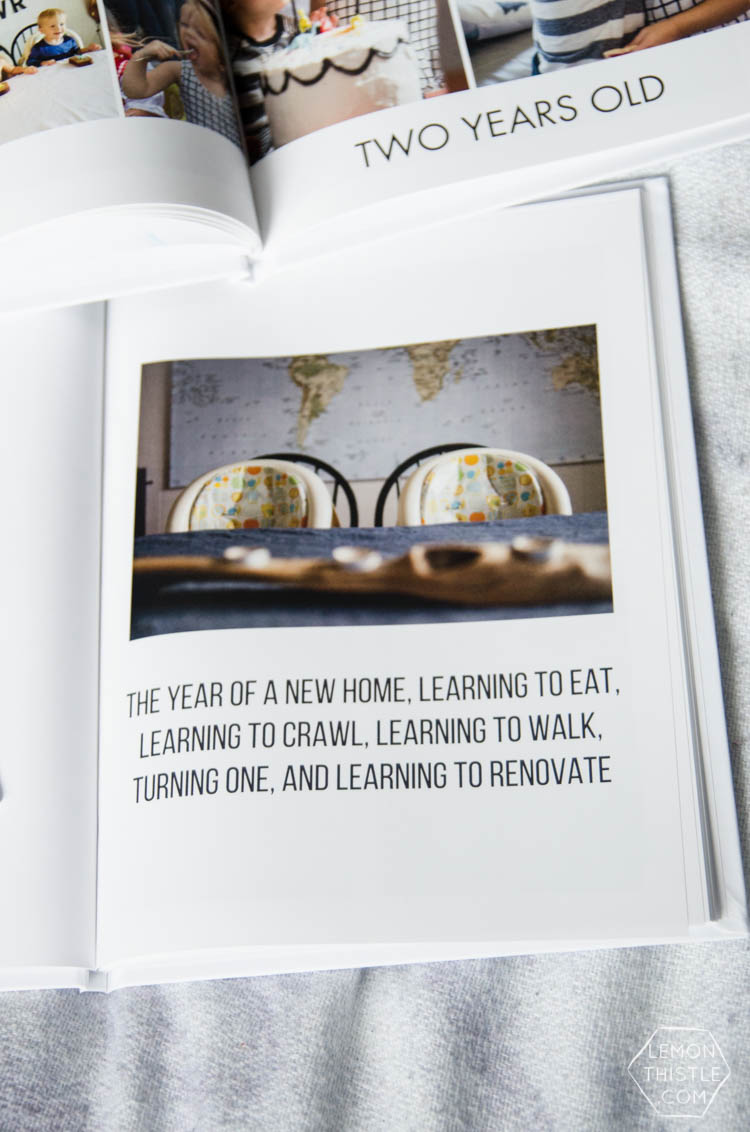 The first thing I did was pick a theme to start. Once the editor opened up I added all the photos from my 'for the album' sub-folders for the yr. I checked the box to hibernate photos that have been used already so I could encounter just the photos I still needed to add. I started by picking a fave photo for the embrace and back, so the first folio of each book I picked a photo that represented the year and wrote a few notes nearly the year. I really wanted to keep it simple so I didn't spend hours stressing over what to say for each photograph or event- I just wrote the nuts, the memories that would sum up our year and bring back memories.
You can run across our 2014 above, just terminal years (for instance) was,
"The twelvemonth of so much laughter, more personalities, even more renovations, & so many snuggles"
with a photo of my three kids laughing on my bed. These captions are and so elementary and they're the only existent thoughtful captions in the book. I'm of the campsite, 'A photograph is worth one thousand words'. If you wanted to add more, you totally could- this but made information technology simple for me.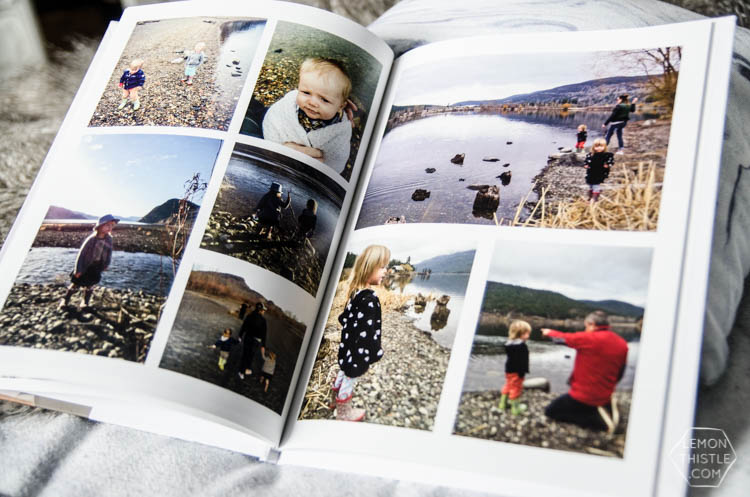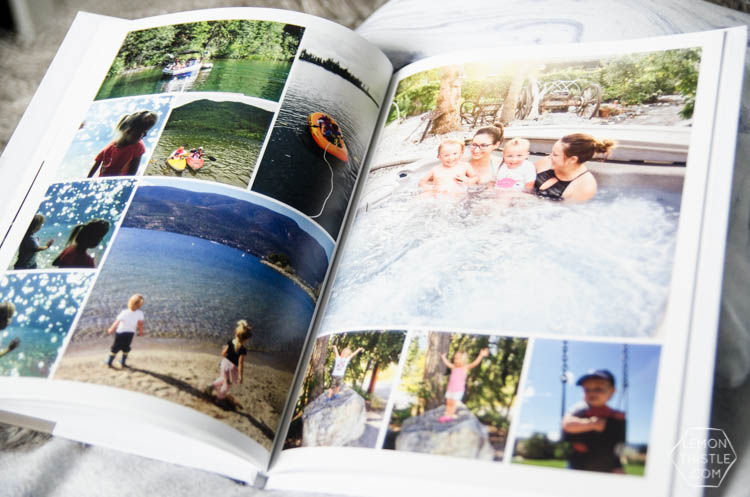 Side by side, I set out to creating the pages for my yearly photobooks. You could utilise the autofill office to fill all the template designed pages with your photos. Since I wanted to jam in as many photos as possible, and wanted them to follow a logical progression for the year (christmas at the end of the book), I did this manually.
I simply made ii folio spreads that I thought told a story together, then dragged those around to go them in the correct order. Then all our family unit session photos (we do once a year in the autumn) I'd put in a ii page spread, our fall adventuring got a two page spread, and all the beachy summer photos would get a two page spread (above). And then I would re-organize them one time the spreads were consummate to follow the seasons of the year (or the length of kids hair if I couldn't remember! #truth).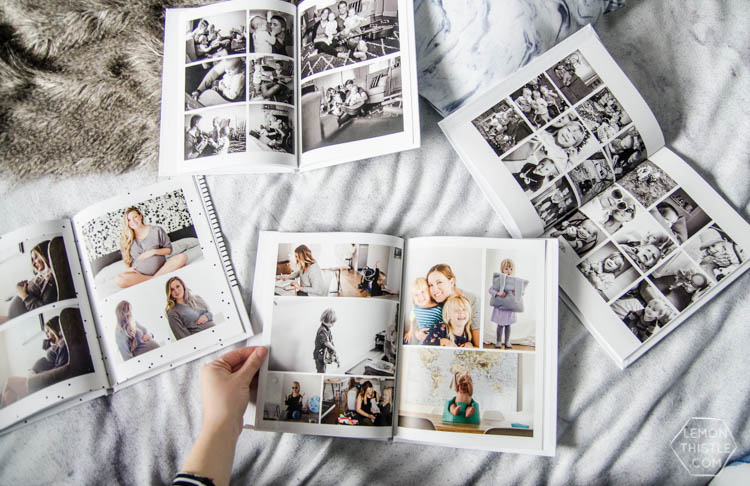 I used some of the premade templates for photos (yous can look nether the layouts tab). But I customized a bunch of them. You can re-create and paste parts of the layout to add more photos and line it up- there'southward guidelines that popular upwardly which help. You could as well but drag images over and resize them to add more than. The start book, this took me a while… but by number 4, even though there were fashion more photos from that year, I got it done in NO time, I was on a roll.
The Mixbook platform is pretty like to most editors which makes information technology easy to catch on to. Y'all tin can employ your keyboard shortcuts for copy/paste/delete and arrows to move things around. The one thing I'd point out is that some of the templates take white borders on photos (which you can't see on white backgrounds) which makes the resizing await funny if y'all add new photos to the layout that don't have a border. You tin can but turn off the border in the footling options box that pops upwardly and yous'll find information technology a lot easier to line everything upwardly.
Giving yourself permission to create your own templates and edit the ones they provide you will brand your photo books SO MUCH Better. Non because their templates aren't rad, simply because you have photos sized how you've sized them. Square from Instagram, or perhaps you have a lot of horizontal shots or something like that. You don't want to try clasp a horizontal photo into a tall skinny space but because that's what's provided. Resize it and y'all'll exist a lot happier with how your photos look- promise 😉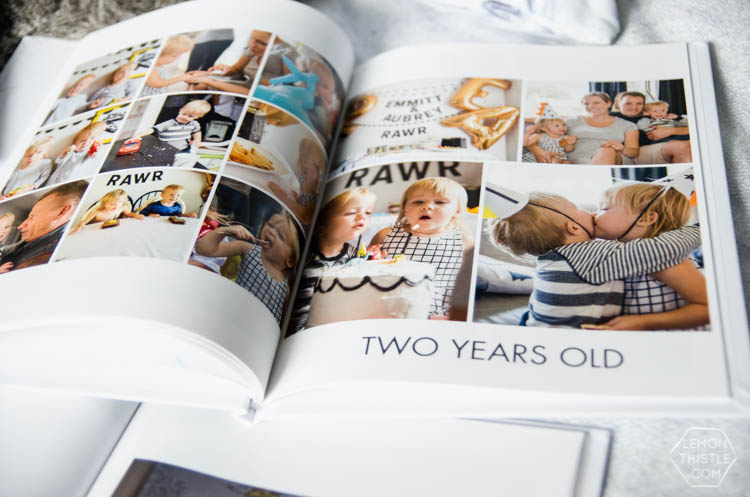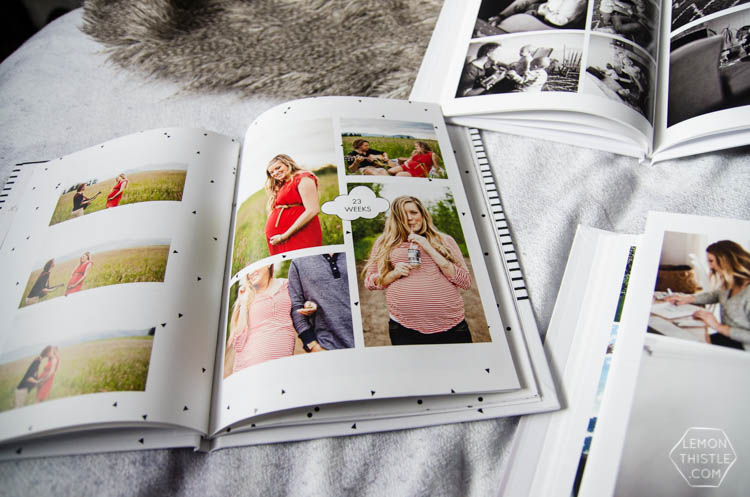 I did add together in some text for dates and such- like '32 weeks' for my maternity photos, or 'ane year' for birthdays, and I did put in the date/time/weight for all the kids' births on those pages. And aye, y'all're reading that photo above correct. My maternity photos for the twins were done at 23 weeks pregnant. Haha I was huge!
I thing I WISH I did just totally didn't figure out until I received the books… is write the years on the spine of the book. Since they're a nice clean white, I'll probably simply write the years on with a black marker only next year I'm definitely typing it in ahead of time! It was a total face palm moment when I realized I missed that stride. When you're in the editor, there'south a skinny strip beside the cover page and that'due south the spine. When y'all click into it yous can type- I totally missed this when I was creating my books.
Embellish information technology… or not
So permit's talk virtually backgrounds and stickers- there'south tons of options to customize your books. The first one I did was 2013 and I chose the 'Manus Painted Baby' template. I love the black and white but I spent SO MUCH TIME picking the all-time backgrounds for each folio and any stickers I wanted on there. And in the end… I don't fifty-fifty like it that much more than the ones with NO backgrounds. I'm simple like that but if y'all're stressed most how much time goes into making a photograph book… maybe consider NO backgrounds like I did on my other three. Information technology's clean and unproblematic and the focus is on your precious photos.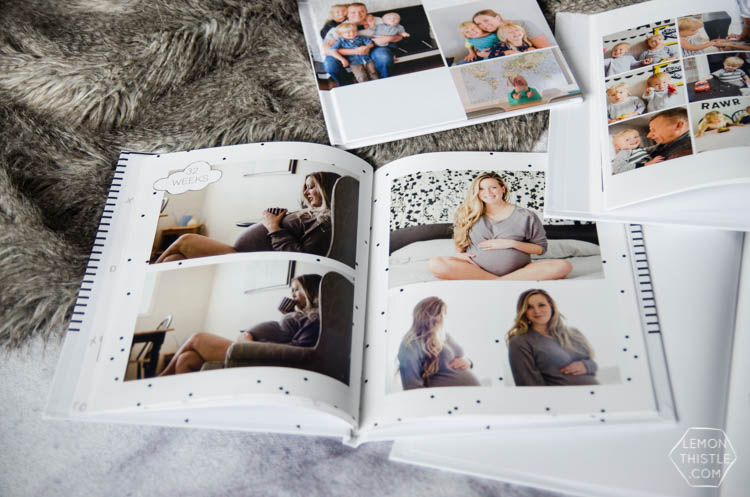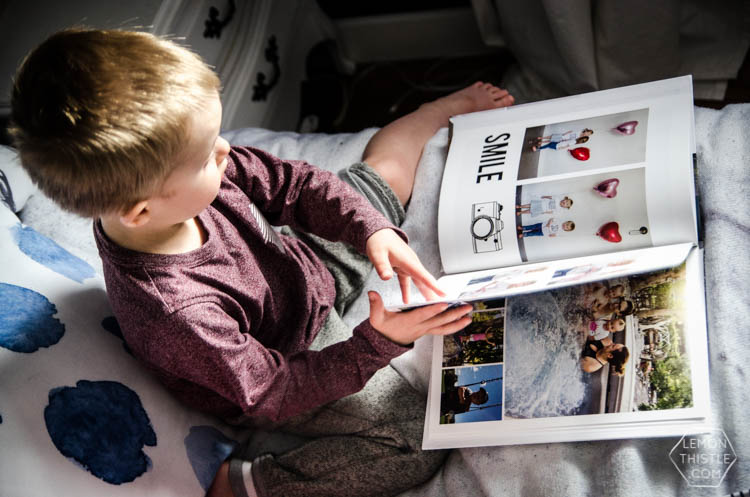 Just get started!
The biggest tip I can requite you is to just get started. I've been letting this take upwards space in my brain for years without doing it, you guys. At present that I've washed it, I'm kicking myself for non doing it sooner. Information technology didn't take as well long at all in one case I got into a groove and my family has already gotten so much enjoyment out of these books.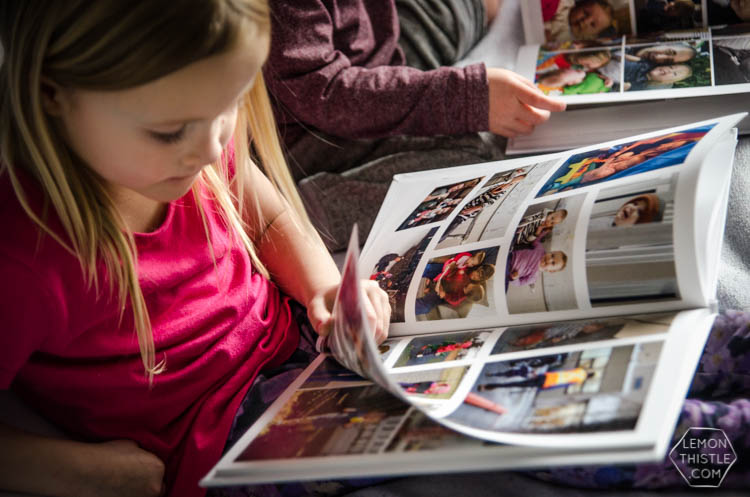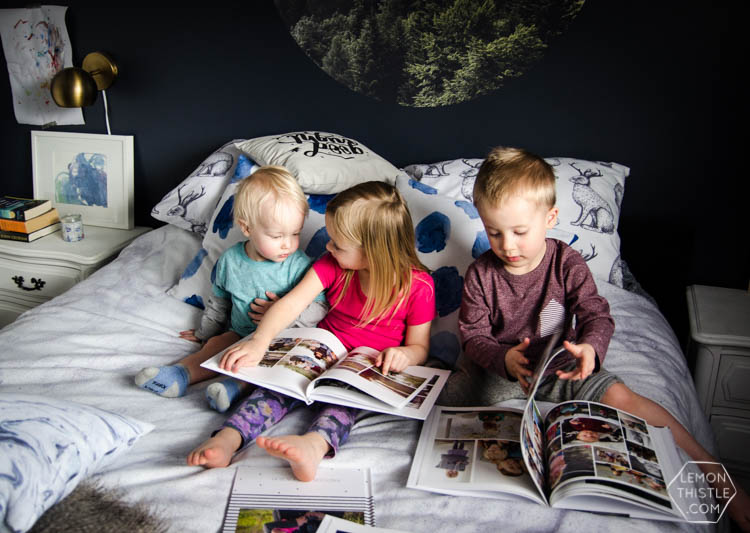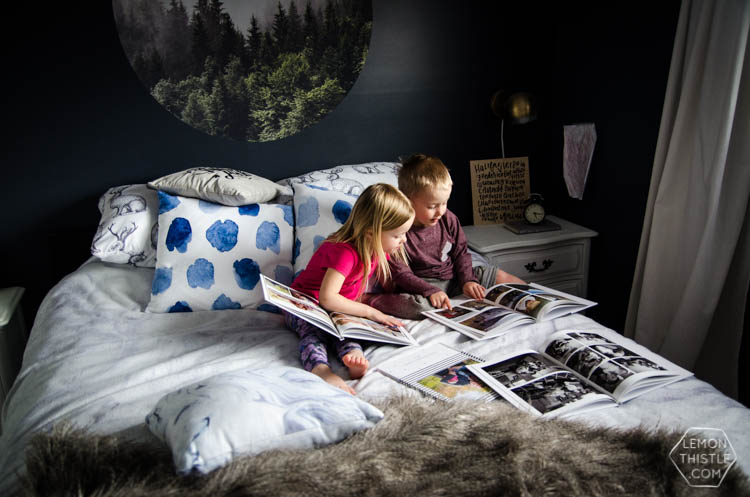 SAVE Coin!
Okay, and then originally I had a coupon code. Only this postal service is still so popular and that coupon code is expired. I've bought my final few photobooks myself and here's what I do to salvage coin… I brand my book and I relieve it. If at that place'due south no cracking sale on (you should be able to save 40% minimum!), then I sign up for their electronic mail list and I wait. You lot should come across a great sale in the next month or 2 and unless you're in a large rush (I never am!), you'll be able to snag a sweet bargain when it comes because you're volume is ready to hit 'purchase' while that sale is valid!
If you're thinking you desire to make yourself some family books too- I say Go for information technology. Mixbook was kind enough to provide a 40% off coupon code for Lemon Thistle readers (totally rad of them!) so there actually is no better time to do it. All y'all have to do is enter the codeLEMON40
at cheque out for forty% off site wide. This offering expires May 20, 2017. Yous tin can come across all the books I used in this epitome below: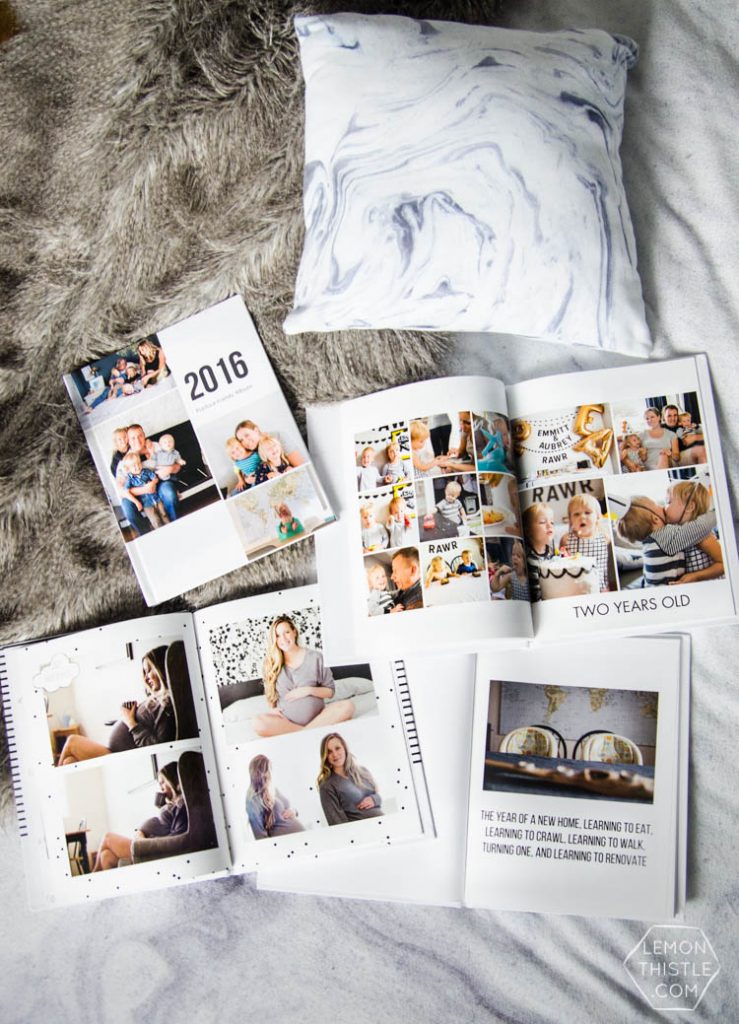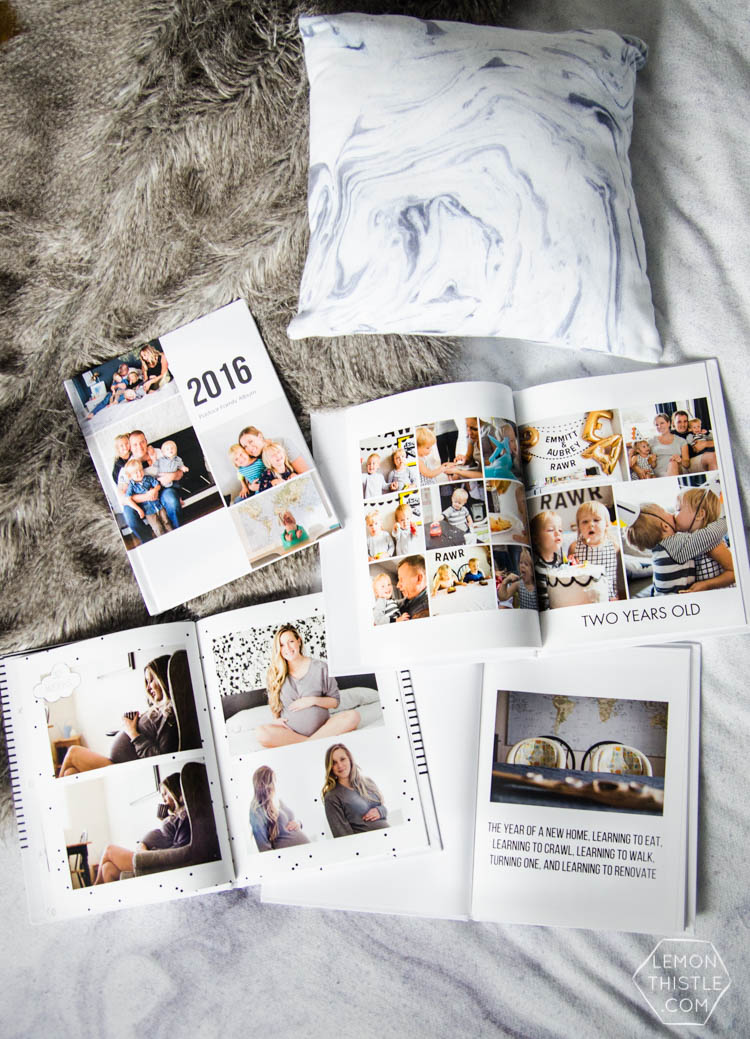 And if you lot are inspired by this and do go photo books done… you know I want you to share your books with me! Tag me on social @colleenpastoor or electronic mail me [electronic mail protected] and I'll give y'all major e-loftier fives for getting information technology done!
LIKE IT? PIN Information technology!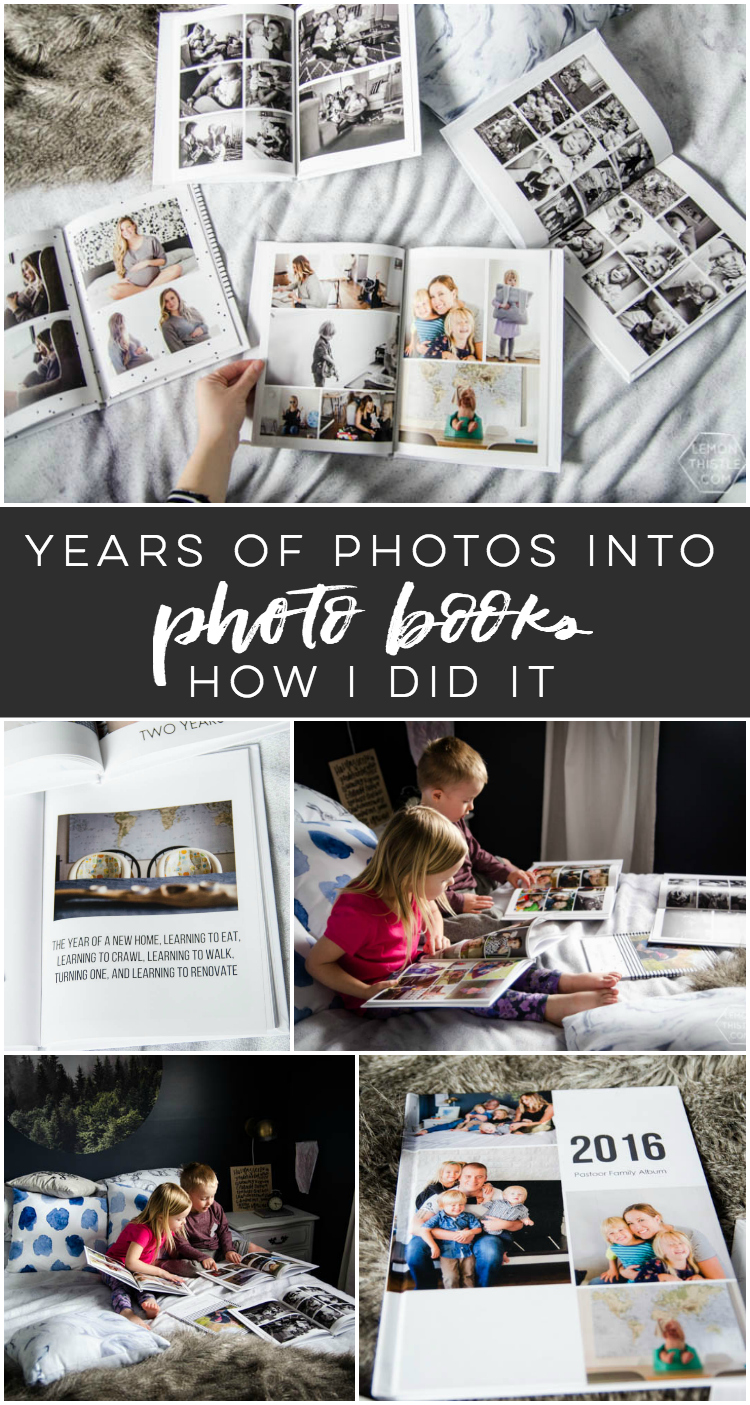 Source: https://www.lemonthistle.com/modern-yearly-photobooks-organizing-years-of-photos/