Blake Morrison
Author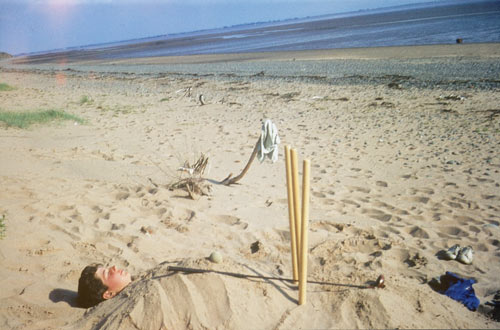 I tell myself I've never owned a camera, but that doesn't square with a memory of being given one equally a birthday nowadays in my teens, and of a losing struggle with light, shade, aperture, altitude, bending, focus. Cameras were more demanding then, and I hadn't the patience. Other people did it better.
Not least, to begin with, my male parent. A stranger looking through my childhood photos might deduce a) that we were perpetually on holiday in north Wales, and b) that my father never accompanied u.s.a.. Just he wasn't absent, merely hiding behind the lens of his Nikon. Nigh of his snaps were taken without us noticing. But a few were fob photos, such equally the one with my female parent, sister and me arranged higher up each other on a steep colina, to look like acrobats continuing on each other's shoulders.
Despite their playfulness, my master feeling when I look at those photos is sadness: that about of the people in them are now expressionless; that the times they commemorate can't be retrieved. It's sentimental, I know: fourth dimension passes; the moment goes even as the shutter clicks. But those photographic images are a source of sorrow, whereas the images in my caput are not. Larkin has a poem most how memories "link usa to our losses" by showing us "what nosotros have equally it once was,/Blindingly undiminished, just as though/By acting differently nosotros could have kept it so." That's the event quondam photos have on me. 
Worse, though, would exist to have none at all. My favourite photo is one of my mother in pigtails as a child, an epitome unknown to me until a few years ago, later on her death, when a cousin sent it. The primeval paradigm I had of her till then was a graduation photograph, taken in Dublin. There were none of her large family, either. I felt shut out from her by, and the lack of pictures was part of the reason.
My father's childhood was heavily documented by comparing, and he was scrupulous about documenting his children's, first in tiny black-and-white prints, then with color transparencies, which were looked at through a viewfinder or (at the annual Christmas slide evidence put on for my long-suffering cousins) on a white screen. He besides had a cinematics photographic camera, and I sometimes feel guilty that my own children, unlike me, have no moving images of themselves to expect back on. Why my wife and I never bought a video camera, I don't know (laziness? expense?). Only she at to the lowest degree has been diligent downwards the years, with box cameras, Polaroids, disposables and (most recently) a digital Canon. The results have been pasted in albums and dated, and every so frequently I get them out to see what we got up to. These, besides, brand me bawling.

I now have a photograph binder on my computer, for emailed pictures sent by friends and family. More to the point, I own an iPhone and accept begun to take snaps. My shots from the Shard at nighttime were disappointing. And it'due south also belatedly for me to compete with the poet Hugo Williams, who has been taking his camera to parties and volume launches for decades and who must past now have one of the keen literary photo-archives of our time. Simply tentatively, decades too tardily, I have made a kickoff.
Mary McCartney
Lensman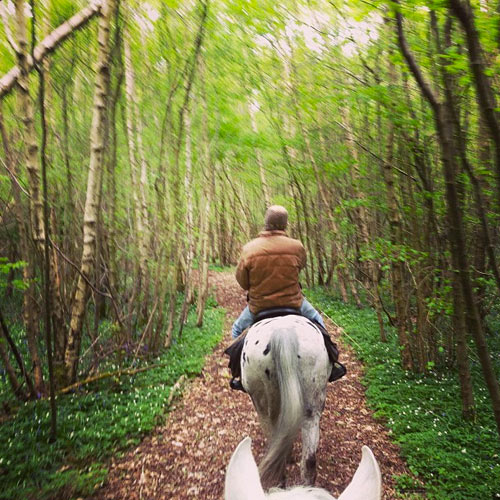 I have a vivid early memory of going to a darkroom with my mum. I would see her taking photos a lot, though she didn't do much printing. Merely she took me at that place one mean solar day and I remember seeing a bare page put into a chemical bath and condign a photograph.
We didn't actually have any of her pictures effectually the house, but there was a Jacques-Henri Lartigue, and an Edward S Curtis portait of some native Americans. Mum grew upward in New York and she got into photography after seeing the famous Family unit of Human exhibition at the Museum of Modern Art, curated by Edward Steichen. She mentioned it often; my mum and dad discussed photography a lot.
Because I grew up around it, I assumed everyone could take pictures. Now, I realise that not everyone has the eye. It'south true that every kid can take pictures that you could use or publish, and there are a lot more being documented. But information technology'due south notwithstanding hard to practice a proper shoot, or become into depth; it takes a lot of time and attention.
I still think in film: I ever take. If I take an image that I actually like, it feels more than existent if it's defenseless on moving picture; if I've shot it digitally, I experience information technology could simply disappear. The confusing thing for me is how many different ways in that location are of taking photos. I take a off-white corporeality on my iPhone, quite a few on my 35mm Leica, plus on my digital camera, and I have a Polaroid, too. When I'grand going on an assignment, I never know which cameras to have. 
I'm embarrassed to say that my main camera is my iPhone. I'm on Instagram and so I can follow friends; I like how immediate it is. I upload with filters sometimes; I'thou not that purist nearly it. In the past, you'd pick a certain type of picture show for a certain look, and today's filters are a similar concept: the modern version of choosing the correct mood. But if there's absolutely stunning calorie-free, and a picture show hasn't needed a filter, I always exercise #nofilter.
Family unit pictures are the virtually precious. I have a set of prints I carry around in my wallet of my kids, my married man and my parents. I wait at those rather than writing a diary: they're very evocative and textural and emotional, and have yous back to specific moments. I change them every then often, after they go worn out. 
The picture I carry of my parents is a little one-time colour print of them hugging in the 70s, which is sweet. The ane of my husband and me was taken in a photobooth a friend rented for a altogether party. I love the onetime-fashioned booths where you lot get iv different shots; they feel unique because yous've got the only version that volition always be. I also have a great photobooth strip of my son when he was really immature. He'south crying at the beginning – then in the next photograph my hand'southward in in that location, giving him an water ice-cream.
Steve Pyke
Lensman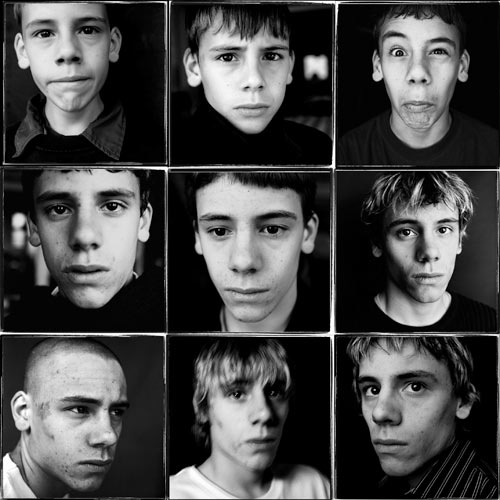 I grew up in Leicester in the 60s. The start time I became enthralled by photography was when my mum got a subscription to Life magazine: the Apollo eight comprehend from December 1968 was particularly dear to me. I never wanted to be a train driver, always an astronaut. I went on to work for Life, and my astronauts series ended upwards in its pages in 1999/2000, and then I came full circle.
I've been photographing my children since they were born. I don't photo them every 24-hour interval at present, only every few months: Jack's at present 26 and Duncan's 21. It came about in the 1980s: I was making Super eight films and working on a film with Peter Greenaway that photographed things over time. David Attenborough did it first, with a dead mouse that eventually had maggots in information technology. I thought: what an astonishing thing to do with a human existence, flick someone on Super 8 from nascence to death. When Jack was 20 minutes quondam, I made my beginning image of him, with the idea that the decease at the end of the cycle would exist mine, not his. I also photograph my daughter Lola Rae, who is six. She plays to the camera and is more aware of herself. Now I've started to scan in the photos to make stop-motion animations.
I shop all my images in print grade, but besides as digital scans on hard drives. I borrow my girlfriend's digital camera and iPhone sometimes, but I haven't always bought one because I shoot with my Rolleiflex. Information technology'southward hard to do it any other way now. 
I've as well been collecting photography prints since 1980, and take an eclectic collection: a Brassai, an Enrique Mezenides, a Diane Arbus, an Eggleston, and a couple of Nan Goldins, because I was a part of that time and place here in New York. I have a wall of photographs in my studio, for inspiration and influence, that I change sporadically
(pictured at the top of the commodity). The rest of the walls are covered with my own portraits of people like Joe Strummer, John Waters, Robert Johnson.

I've shot millions of images so it'south hard to pull something out that'south symbolic. Simply there is a photograph that means a lot to me hanging in my studio. I photographed information technology on the first roll I ever took at Billy Smart's Circus in Battersea in the early on 1980s. Days before, a friend had taken me to a pub on Tottenham Court Road. He had a Pentax and he showed me how to use it, and then gave me ii rolls of film. I photographed circuses, fairgrounds, bars. The epitome is a adult female lying down, balancing a table on her anxiety. Information technology's her job, but there's a whole sexuality aspect to it, too. Photography and surrealism are so linked. It's a crazy way to earn a living, on your back like that.
Grayson Perry
Artist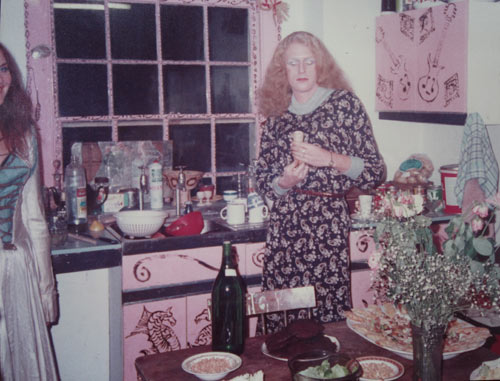 When I was about five, my female parent fabricated a bonfire in the back garden and burned a suitcase total of family photos taken past my father. He had been a bang-up photographer with his ain dark room. I don't know why she burned them, but it coincided with them getting divorced and my stepfather moving in.

For the residual of my childhood, no 1 in the family possessed a camera, and so I have very few photographs of myself before art college. Family snaps are somehow celebratory of the good times then there was little motivation to record our lives. Every bit shortly as I could afford information technology, I bought a clunky Russian Zenith SLR. It was bulky and manual and I had little spare cash for picture, so I took few snaps at showtime. Some of my nearly precious and most naff are the earliest images of myself in women'due south clothes, staring into the lens, nervously waiting for the self-timer to get off. Transvestites have a very symbiotic relationship with the camera. We used to joke at tranny events that we should seek Kodak sponsorship.

I was never very proficient at the technical side, and have few good photographs of my early work, an omission I came to regret when researching my first retrospective show. I had put on whole exhibitions in the 1980s without taking a unmarried photo. Present, my dealer will commission high-quality photographs as a matter of form.
Soon after compact automatic cameras became available I started taking a lot of snaps. This was a habit I kept upwards until adequately recently, particularly when my daughter was young. I used to put them in albums religiously, until I saw a Television set program where a curator from the Museum of Film and Photography said those sticky, clingfilm-style albums are terrible for the prints and you should keep them in a shoebox. Which I did, unedited, for years until I realised we never looked at them. Then my girl and I spent a week going through thousands and sorted the best into a series of albums.
Since the advent of digital photography, I have taken fewer and fewer photos for fun, but hugely more for inquiry, or to record my work, or outfits. I take a few to record our ageing. I volition keep holiday and return with just a dozen snaps. I don't know whether this is because of historic period, laziness or the feeling that photography has get a torrent of cliches. The cameraphone has made the wood of glowing screens ubiquitous in museums, galleries and at events. Perchance I'm a snob, but it'due south put me off photography.
Katie Mitchell
Theatre director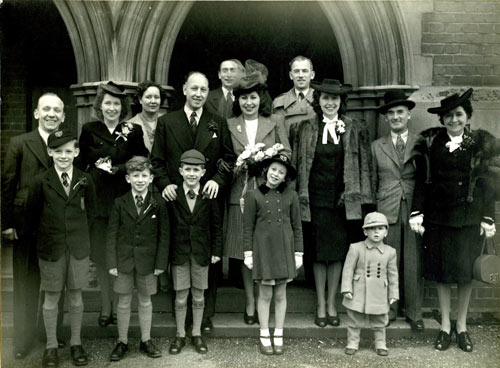 My father ever took photographs of our summertime holidays and printed the film into slides. He used a Japanese camera, a 35mm Canon. We had family slide shows every winter. There was a white plastic screen that had to be pulled up out of its cylindrical container, and we had to be careful not to get sticky fingers on the negatives. There were framed photographs of u.s.a. around the house and my favourite was a plain wooden frame around a colour pic of me, with the sun hitting the lens so it created a halo around my smiling caput. My dad also taught my brother and me how to brand pinhole cameras when I was near 10.
My uncle Richard took photographs for the Leicester Mercury, specialising in sports photography and popular concerts similar the Beatles, and then the business firm was also littered with his shots. My brother started taking black-and-white images when he was at prep school and later went into photography professionally. My first experience of a nighttime room was with him in my early 20s. The magic of the paradigm emerging on to the white photographic paper in the thick crimson gloom was bewitching, and I loved the style the images were hung up on a washing line.
When I went to university, my father gave me his old Canon and I retrieve the complexity of all the settings, how hard it was to load and the importance of caring for information technology. Later, equally I became more interested in film, my dad bought me a Super 8 camera and I remember the delight when you started filming and the camera whirred until you lot pressed end.
Now I utilise either the new digital camera my mum bought me when I had my daughter, or my iPhone. I shop my photographs on my calculator and rarely print them. In the showtime 2 years of my daughter's life, I printed all the photographs of her and put them into albums, and had some framed. But they looked different from my childhood photographs. It's the texture: I miss the grain of the original print.

It's the quondam family photographs from the 1920s onwards that I love the nigh. When I am with either of my parents, I am e'er rummaging around in their old collections. Before my granny died, I got her to tell me who all the people were in the photographs in her house, and I carefully wrote on the back of each i. I'thousand at present doing the same with my mum'due south former photographs. I am specially fond of a moving picture of my mother standing with her mother and holding out her hand to feed a dove whose wings are blurred. Information technology must be the 1930s. And at that place is a tiny, tiny photograph of my granny'due south family on my dad's side, taken on the Kennington Road in London in the 1920s. My cracking grandad is seated cradling Arthur, one of his sons, who looks as if he has polio, and the rest of the family and friends are crowded around, about thirty people.
These tiny images, sometimes only 3in 10 1in, with their curled edges, are the only way of touching people in my past. Like many people, my family was broken upward past time, events, place and so on, and looking at these is a way of putting the pieces of my past together, similar a jigsaw. When I am doing this, I often think of TS Eliot's E Coker:
'There is a time for the evening 
under starlight,
A time for the evening nether lamplight
(The evening with the photograph album).'
Sean O'Hagan
Photography critic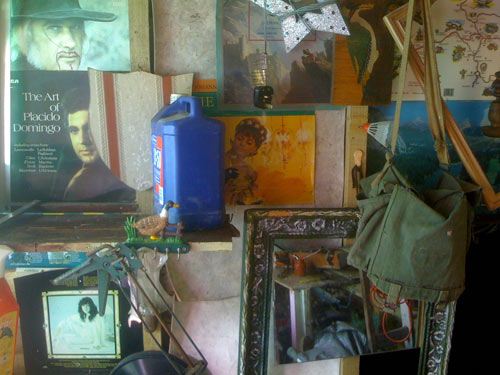 I remember a Kodak Instamatic that appeared every time we went on holiday or had a family gathering. The rest of the time it resided in the "everything drawer" in the kitchen, alongside lightbulbs, batteries, pieces of cord, marker pens, dress pegs and all the other detritus of family life. The idea that information technology could be taken out, loaded up with cheap motion picture and used to record my everyday life never occurred to me. This is at present a source of deep regret.
I lived through the onset of the Troubles in Armagh, and information technology strikes me now that I could accept been a kind of anti-Ed Ruscha. He photographed every edifice on Dusk Strip. I could take photographed every bombed building on Scotch Street. What a series that would have been.
I moved to London just in fourth dimension for punk, only I didn't own a camera then, either, nor did I always think of ownership one. For a fourth dimension, I shared a apartment with an Australian girl who had a Pentax (or maybe a Nikon), which, every bit I recall, she used a lot. When she departed for dwelling after one too many long London winters, she took all her snapshots with her. Somewhere down under, at that place is a treasure trove of photographs of me and my friends in various states of chemical busted in our battered leather jackets, torn Levi's and Ramones T-shirts.
In one case, while working for the NME in the late 80s, I took some photographs to accompany a characteristic on Everything Only the Daughter in Moscow. I used colour slide motion-picture show, unwittingly. That'south how achieved I was. The pictures ran, though. One filled a whole folio: Ben and Tracy beneath a giant statue of Lenin. It remains a source of some pride: my one castor with practical photography.
Though I write about photography for a living, I did not ain a camera until recently. My outset was a Pentax Omnio digital compact – a nowadays from my wife. It'southward a great lilliputian camera, and already an ancient relic of another time. I now own a Fuji X10, which I use as a visual diary. I try not to shoot as much as I used to because so many dandy photographers accept told me that the real editing takes place as you lot are shooting. I have never printed a digital photo. They are stored on my hard disk in their hundreds, maybe thousands. This fills me with a vague anxiety.
I tin run across at present that I shoot certain things over and over: landscapes whizzing by from moving trains; people dozing on the tube; things scrawled on walls (though non graffiti or graffiti tags); the tops of trees against the sky. I basically shoot the kind of photography I like. I think photographs should be intimate. And everyday. And luminous. That'south a alpine order, but the all-time photographers pull it off all the fourth dimension.
When my father was very sick a few years ago, and again merely subsequently he died, I photographed the interior of his garden shed on my phone and digital photographic camera. The images, together and separately, feel like a portrait of him somehow – a portrait of the within of his head and all the stuff he had collected there. For me, they possess a meaning that many of my other photographs exercise non. Something to exercise with fourth dimension and mortality and retentivity, all the things Roland Barthes wrote well-nigh in Photographic camera Lucida, and which photography seems to evoke like no other art form because of its very nature – the divide second already gone. At some point, I will put some words to them, because that is what I do. I'm a writer, not a photographer. Just every time I see a photograph that surprises me, I wish – for a split 2nd – information technology was the other way effectually.
Jemima Kiss
Technology writer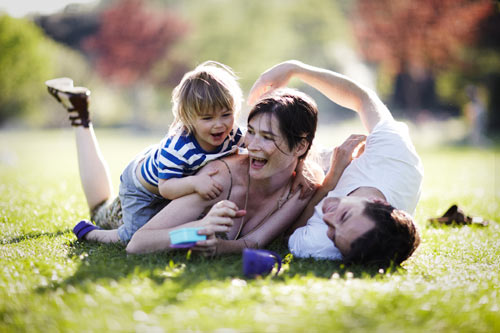 Somewhere upstairs in my partner Will'due south cold, dingy office next to the airing closet, in that location'south a collection of dusty, dilapidated hard drives. They are not well-loved, and occasionally get used as doorstops. Yet hidden inside is an invaluable function of our family history – our collection of photos.
Will is a photographer, and though there have been occasions where we take sifted through photos and even printed a couple out, the sheer, overwhelming book of pictures he has taken over the years has fabricated it incommunicable even to begin to manage or access this drove. It's a source of constant frustration for my mother-in-law, who regularly bemoans the fact that her professional lensman son is unable to provide her with printed images of her grandchildren. He takes upward to 80Gb of photos per shoot and estimates he has half a meg photos. It's insurmountable.
We recently pulled out some photographs for our nuptials invitation, discovering swaths of images nosotros hadn't seen for years, or e'er. I wondered if at that place is a signal – similar to Dunbar's Constabulary – beyond which we are unable to process volumes of information.
Combined with human incompetence and the chaos of kid-rearing, the inaccessibility of our visual retentivity depository financial institution has go a real bone of contention. Last spring I spent three evenings editing and sorting (with no small amount of obsessive satisfaction, I should add) a few thousand photos of us all, organising by event and pulling the best into a shortlist binder. We moved house, and the hard bulldoze disappeared. Mayhap lost, maybe wiped. In the digital world, easy come, easy go.

If we had had just ten pictures in the world, would nosotros have been more than conscientious with them? They would each exist meticulously stored, labelled, backed up and printed out in beautiful frames – and probably in my mother-in-law'south house, too.
It wasn't ever this manner. I still have a shoe box of prints from my childhood, and crates of my dad's slides that I've been gradually scanning to eventually share online. Family cameras – my grandmother's Brownie Vecta, my dad's SLR – were precious, hallowed objects, not for our grubby hands. The relatively pocket-size number of photos in the family collection from when I was a kid meant that many of them came to represent powerful, emotional links to our past: to favourite holidays, to my babyhood home (now demolished). Later, with the expiry of my male parent, they took on a rather cruel disconnect to the nowadays world; he seems so vital and alive in a coincidental moment caught and printed on a random piece of photographic paper, yet he is no longer here. 
What'south adjacent, then, for this photographic, digital overload? We are yet early on into our adaptation to the digital world, and unsophisticated when it comes to managing all this material. We demand to be more than selective in what nosotros choose to photo and what we choose to keep. If information technology'southward a bad photo, or simply i of the 10 you shot is any adept, just keep the best i. Delete is your friend.

But the problem also needs technological recognition. Photo storage needs to be more automated, and photo-viewing software should also help u.s.a. more than. Information technology can acquire which photos we view well-nigh often, and let the poor photos recede automatically. Software could summarise the 10 best photos we've taken that month, and put them somewhere special. It could identify duplicate photos and suggest the i to go along. Don't dorsum up all iii,000, just the 30 y'all actually treasure. All we need is some vivid spark to fix the problem.
Louise Wilson
Artist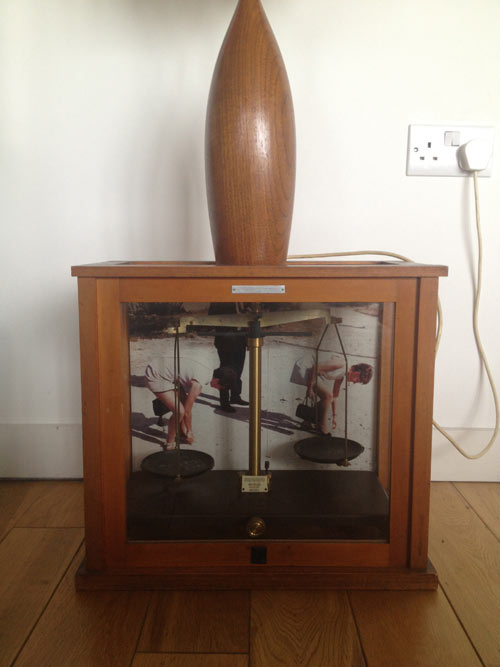 I got into photography at art college. I borrowed a 35mm camera, and would go in the night room for hours, practising how to load the neg on to the spools.
But I only bought my beginning camera later: a Mamiya C330 with a twin lens. My sis Jane and I would brand our own big-scale prints, about five metres wide, with an enlarger that we had to tilt on its side to make the projections big enough. Nosotros would bring garden troughs into the night room, roll these massive sheets in water, and so in developer, and then fix them, before running each sheet nether water for hours. Nosotros got weekend access and I would stay in in that location till all hours.
I use a digital camera, and an iPhone: you can practice trivial furnishings, and I love apps where you can shoot grainy, black-and-white movies. Nosotros did a large number for the ICA in London, in 2022, where we shot a recreation of the Odessa step scene from Battleship Potemkin on my iPhone. The thought was that it looked actually lo-fi, that nosotros just captured it on the wing with loads of volunteers, which we did. The curator Norman Rosenthal was at that place that twenty-four hour period, which was serendipitous: he played the wailing woman that gets shot, and drag queen Jonny Woo was the mother pushing the pram downwardly the steps.

It'southward interesting to see how playful my nephew is at half-dozen, shooting his own movies. The next generation have a complete familiarity with documenting themselves and their environment in a mode nosotros only didn't. Photography has entered such a democratic sphere now, with the digital realm open up to all. Younger people edit their own movies, fix their own events, and there'southward a real confidence – it'due south totally entered their language. I frequently have him to exhibitions and he loves sitting cross-legged on the floor and watching video art; his generation accept such an empathy with that kind of piece of work.
My male parent had a dark room before Jane and I were born. A few years ago, we found a really interesting image he'd taken and turned it into a sculpture
(pictured above). Information technology'southward a picture of my mother and a friend of hers bending down to pick up shells on the beach, looking very 60s. Their posture mirrors each other, and in that location'south a man in the middle belongings a camera, and these beautiful long shadows from a low, late afternoon dominicus. Jane and I put his photograph backside a fix of sometime-fashioned weighing scales. The scales reflect the balance, the way the women seem on the same plain. Today, it'southward in my business firm with a lampshade on elevation of it. I've never talked to my dad almost his photography, but this curious construction always reminds me of him, and where my love of the dark room came from.
Adrian Searle
Art critic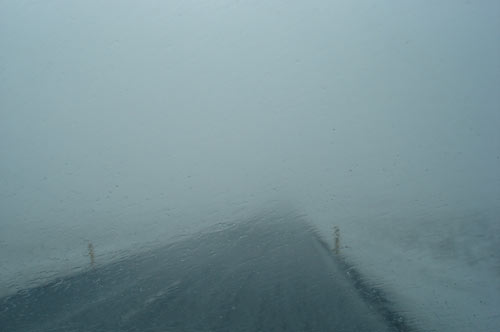 When I look at myself as a child, information technology e'er looks like someone else's retention rather than a childhood I remember for myself. When I see a photograph of my female parent, I barely recognise her. This saddens me, and says less nearly the photograph than it does near retentiveness and my childhood experience. I likewise have a number of family albums and boxes stuffed with pictures, some well over a century erstwhile. I proceed them cool and in the dark, and rarely await at them.
I was given a camera in my early teens, and promptly broke it. At art college I managed to work out the mysteries of the SLR and calorie-free-meter, just apart from documenting art, I take commonly been without a camera. There are years and years of my life, places I accept been, friends and lovers, my daughter growing upward, fish I accept caught, rooms I accept lived in, for which I accept few visual records. A shot of my daughter, aged 4, by the artist and picture editor Bruce Bernard, who taught me a dandy deal about how to look at photographs, is a small-scale talisman, and sits past my bed. Our relationships to item photographs – rather than photography in general – can exist very complex. Touch on is complicated, memory is complicated.
Digital photography, a cameraphone and a slightly less rackety life has fabricated things easier, if not more than organised. I used to draw and scribble my way circular exhibitions. Now I take photographs all the time, by and large of shows and artworks, which I apply for quick reference – though the drawings in my notebooks hateful more to me. I too accept the same sort of snaps anyone else might take: there'due south you lot on the bed, hither'southward me in the sunshine. What city was information technology? The photographs pile upwards in iPhoto, which always wants me to catalogue them, only I resist.
Another favourite is also my desktop screensaver
(pictured above). Shot with my phone while trapped in a auto during a blizzard in Republic of iceland, with the creative person Roni Horn, it's the view through the windshield: a view of emptiness filled with grey green conditions. I keep thinking information technology's Roni'southward picture show, even though I shot information technology. 
I dream my mode in and out of images in photography books. I twenty-four hour period it might be John Davies's England, another it could exist Michael Schmidt's Berlin, William Eggleston's Memphis or Anders Petersen'south Café Lehmitz in Hamburg.
On my wall are a number of images by Juergen Teller. At that place'south also a photograph by Jemima Stehli of me wearing a adjust, watching her undress. Property the shutter-release, I am photographing myself watching her. One of Teller's portraits of me, looking mad, was pasted to the wall in his contempo ICA exhibition. It was correct down at floor level; you could give it a quick kicking as you lot passed. With the years, the camera has encouraged me to become an exhibitionist.
Photographs: Steve Pyke; Blake Morrison; Mary McCartney; Grayson Perry; Katie Mitchell; Sean O'Hagan; Will Whipple; Jane and Louise Wilson; Adrian Searle
Source: https://www.theguardian.com/artanddesign/interactive/2013/may/19/power-photography-time-mortality-memory
Posted by: Fusiontr.com